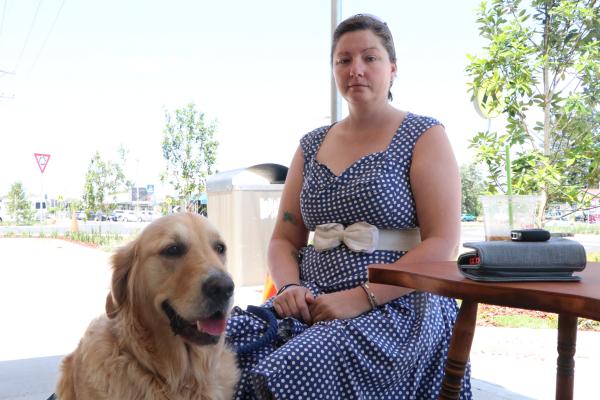 By Julian Lehnert
A South Burnett woman is raising awareness around the legality of Assistance Dogs after a traumatic experience at a local pub saw her and her service animal being refused access last month.
Emma Clarke, a former police officer suffering from anxiety and PTSD, alleges that she was barred from receiving service at a local hotel bar last month due to bringing her Assistance Dog Bailey Quill into the premises with her.
"I attended [the pub] with the intent of having dinner in their restaurant," Ms Clarke explained.
"I was in company of my father, my housemate and my fully licensed Assistance Dog, Bailey Quill, who was wearing his very clearly marked and formal Assistance Dog Jacket, bearing the Guide, Hearing and Assistance Dogs Australia logos and the words Assistance Dog on each side of his jacket.
"Upon entry to the public bar area, the woman behind the bar advised me that I couldn't bring the dog inside. I tried to explain that he is an Assistance Dog and was exempt. I was told that I was not going to be seated in the restaurant because I had the dog. I was told I would have to sit in the public bar, which I felt uncomfortable with.
After an attempt to show the pub's staff Bailey's official license proved unsuccessful, Ms Clarke said that she began to feel actively discriminated against.
"[The woman] stated then said she would ask the other diners if they were willing to have the dog around. I told her that it doesn't work like that and that she was discriminating against me because I had Bailey and I need him with me for my disability," she said.
"She was adamant that I was not to be seated in the restaurant. [I]t was embarrassing and humiliating being treated and dismissed the way I was.
Ms Clarke has relied on her Assistance Dog, three and a half year-old golden retriever Bailey Quill, since receiving him at eight weeks of age; she has raised and trained the eager support animal and led him to become officially accredited by Guide, Hearing and Assistance Dogs Australia.
She said that the dismissal from the South Burnett pub was not the first time she has had trouble explaining Bailey's role to others.
"I had a fight against a rideshare driver in Brisbane," Ms Clarke said.
"He saw the dog and drove off dangerously, and actually hit Bailey with one of his tyres.
"I do get it from time to time – I accept the ignorance at first related to the fact I'm bringing a dog into the premises, but this is the first time I've actually been told, hands-down, 'get out'.
"Once I explain it's an assistance dog, usually it gets resolved. To be told so publicly and so loudly was embarrassing," she said.
According to the Federal Disability Discrimination Act 1992, which was amended in 2009, Assistance Dogs are legally guaranteed access to all public places in Australia.
Refusing someone entry because of their support animal can see the offending individual or business fined, and if charges of discrimination are laid, the offending parties can even be in breach of Commonwealth anti-discrimination legislation.
Ms Clarke explained that she has since forwarded her complaint to the relevant authorities, who will arrange for mediation procedures between her and the pub's owners; however, if mediation is refused she may press charges.
The former police officer said that Assistance Dogs are used for a variety of disabilities, often going beyond physical issues.
"I was a police officer for 13 years and have since been diagnosed with post-traumatic stress disorder, so he mostly helps me with that," she said.
"I get a little bit anxious in public spaces. When I start to get anxious, he picks up on it before I do and does distraction techniques with me. If that's not good enough, then he'll actually go as far as jump up on me. He's a companion – we go everywhere together.
"I also have chronic pain, so he also does deep pressure therapy – if I'm laying down, he'll climb on top of me."
Through Bailey's help, Ms Clarke has been able to regain her quality of life following her diagnoses and previous unsuccessful treatments.
"He saved my life," she said.
"I've gone through all possible treatments for PTSD, and the only thing left was to get a dog."
In spite of the adage that 'you can't teach an old dog new tricks', people-pleasing canine Bailey is still expanding his helpful repertoire.
"I'm teaching him something new," his owner explained.
"I've got a ruptured disc in my back. I've got trouble picking things up some days – it's really hard. So we're learning, constantly tweaking bits and pieces."
When asked about how businesses should deal with a service animal, Ms Clarke explained that awareness of someone's need for support and a keen eye for an accredited animal's 'uniform' can diffuse tension before it even has a chance to start.
"[When an assistance dog comes into your store], have a look at the jacket," she said.
"You're looking for a particular symbol – a badge – and just be aware that you have to provide access.
"There's only really two places that they're not allowed to go, and that's commercial kitchens and surgical theatres.
To others sharing the same space with her and Bailey, she has a simple tip.
"Please don't pet them. Ask, but don't be offended if they say no. It's part of the dog's work – they're such people-pleasers, we have to be careful to not distract them," Ms Clarke said.
"Awareness is the biggest thing – it makes my life easier and it makes [the lives of] other people with disabilities easier."
When contacted by Burnett Today the pub owners refused to make comment on the incident.