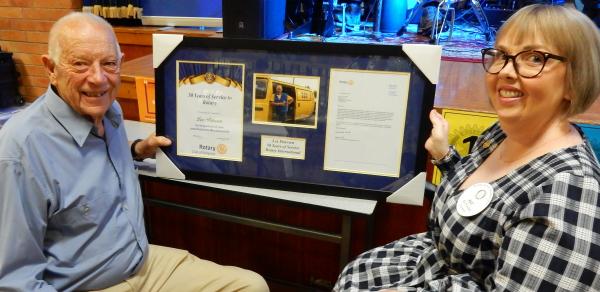 By Anne Skinner
Kingaroy Rotarians celebrated a century of serving their community on Saturday night, 30 October.
Former members and District Governors past and present joined members of the Rotary Club of Kingaroy in the Kingaroy State High School assembly hall to celebrate R100 – the international organisation's 100th anniversary in Australia.
District 9620 Governor Wendy Protheroe told the gathering Rotary had been helping out in Australia in 'tough times and amazing times'.
"It's important to reflect on the past 100 years," Ms Protheroe said.
"We've all given a commitment to service above self.
"We kept our eyes open and saw what was needed in the community.
"The eradication of polio in the world is what sets Rotary apart.
"Rotary will continue to make a change and Rotarians will continue to reflect on what we are doing.
"It's a powerful message, to take the time to reflect on what you have achieved. We serve to change lives."
The evening was also an opportunity to present member Lex Petersen with an award commemorating his 50 years with the club.
Mr Petersen, who joined the club in 1971, has taken on a number of pivotal roles over the years.
Kingaroy club president Katharine Butcher presented Mr Petersen with a framed award, thanking him for his "outstanding service".
"To be involved with everyone here has been great," Mr Petersen responded.
Chartered in 1948, the Rotary Club of Kingaroy has played an important part in the community for 73 years. Its achievements include the development of Rotary Park, financial support for local charities, community groups and sporting clubs and donation of services to local events and vocational service awards for local businesses.
The club is also closely involved with local primary and high schools, fostering youth development initiatives and student exchange programs.
Kingaroy Rotary's most recent project supports initiatives to prevent youth suicide and foster mental health among young people.
Ms Butcher said the evening had been a resounding success.
"It's been absolutely great seeing people celebrating and reminiscing," she said.
The students and staff of the Kingaroy State High School catered for the event, while easy-listening music was provided by Darren Smith.