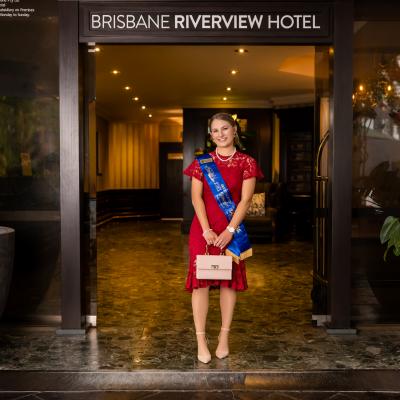 By Neesha Sinnya
As South Burnett Showgirl, Jacinta Rockemer, reflects on her time at the State Awards, she feels an immense amount of gratitude for the 'once in a lifetime' opportunity.
The 19-year-old Goomeri governess represented the region at the Queensland Country Life Showgirl Awards from 20 to 24 October.
The event extended well beyond the awards night with workshops and networking events where the Showgirls learnt invaluable skills.
"It was really amazing," Miss Rockemer said.
"I can't explain how truly good it was – we became an instant 'Show' family, everyone got along so well and it was so good."
Despite not taking home the Queensland title, the South Burnett Showgirl has no regrets.
"I'm really big on 'everything happens for a reason' and there is always the opportunity to go back," she said.
Neighbouring Burnett Showgirl, Brittany Kugel took home the honour, marking two years in a row for the North Burnett.
"Brittany is so deserving and I was so glad to see her win," she said.
For Show Societies, engaging young people is an ongoing challenge, however, Miss Rockemer hopes more will get involved.
"The big thing is to just believe in yourself, go through with it and trust your gut.
"The best part was being able to represent Goomeri and the region, that's what I'm the proudest of," she said.
Miss Rockemer is committed to her role as the South Burnett Showgirl and is showing no signs of hanging up her sash anytime soon.
"I can see myself being involved with the Goomeri Show Society and the subchamber for years to come," she said.
"They say you only hang your sash up when we decide to and I'm not ready yet."