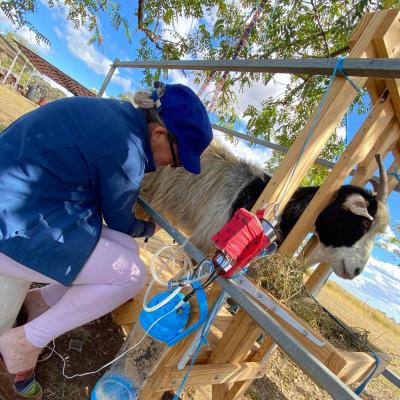 By Neesha Sinnya
With more than 50 local businesses showcasing their goods at Burnett Christmas Pop-Up, the options for shoppers are endless.
Here are some of the stores you can expect at this year's shop:
Little Cow and Co
The crew at Little Cow and Co are truly unique, having combined their passion for agriculture with a focus on ethical products.
Mastermind of the company, Trina Vaughan runs the company out of Mundubbera with the help of her family.
"Our business is primarily soaps at the moment, but we are currently establishing a herd of cattle to expand into beef production as well. We've also added a couple of lovely milking goats to the farm, which has given us a brand new range of goat's milk soap.
"Our business focus is on low waste, sustainable, ethical, and local. We add natural, local ingredients, such as fruits and botanicals from other small productions or locations within the area," Trina said.
Little Cow and Co's journey has been one of trial and error, constant development, and adaptation.
"We have learned that little cows sometimes have big attitudes, but the goats basically milk themselves," Trina said.
The opportunity to showcase their goods at the Burnett Christmas Pop-Up Shop has been hugely positive for the small business.
"Droughts make it hard enough but the additional crash in tourism and employment opportunities due to covid have really impacted areas like the Burnett region," Trina said.
"There is really such a huge amount of talent and creativity in the Burnett area and it's truly wonderful to see the culmination of those talents and the vision of the event coordinators turn out so successfully every year".
JA Essential Blends
One of the stockists this year is 19-year-old, Jaycia Adams from the Binjour area.
JA Essential Blends focuses on affordable, good-quality beauty and skincare products for all skin types.
"Everything I sell I handmake, from scratch in my own kitchen with premium ingredients and no hidden chemicals or nasties," Jaycia said.
For the young entrepreneur, the opportunity to exhibit at the Pop Up Shop gave her the confidence to turn her hobby into a small business.
"Being a teenage girl I was nervous to put myself out there," she said.
"After I took a leap of showcasing my products in the first pop-up shop in 2019 I've received nothing but love and support from everyone who has been involved or purchased from my business."
It's the community support that has really inspired Jaycia to follow her dreams and grow her small business.
"I've had members of the community come up to me and tell me just how much they love my products.
"I feel extremely lucky to be showcasing my products in the Burnett, I'd definitely be lost without the support I've received from the community," she said.