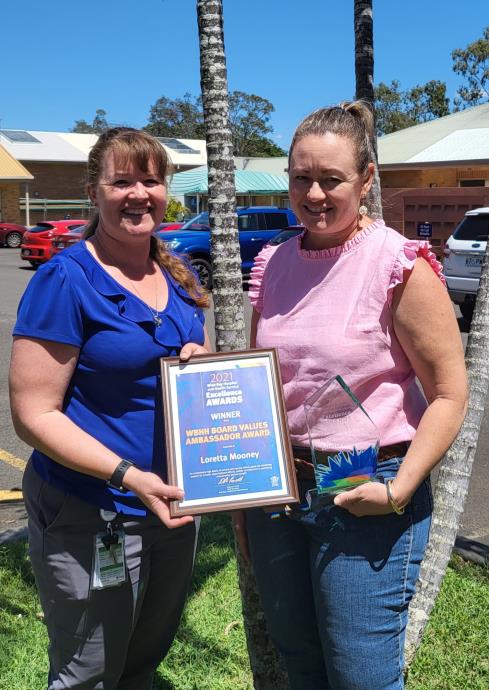 by Julian Lehnert
A Biggenden nurse has won big at the annual regional health service excellence awards this month, taking out the title of Board Ambassador for her dedication to her work.
Loretta Mooney, a clinical nurse at the Biggenden Hospital, was the only Burnett health practitioner to receive an award at this year's Wide Bay Hospital and Health Service Excellence Awards, being announced as Board Ambassador alongside fellow healthcare workers from Bundaberg, Hervey Bay and Maryborough.
She was praised by her colleagues and other members of the WBHHS for "her strong and reliable leadership supporting the Biggenden team, assisting with continued service provision and ensuring patient safety."
"[Loretta] is a strong supporter of the Wide Bay HHS organisational values and demonstrates these by providing – and holding others to account to demonstrate – the highest standard of care for our patients and wider community every day," a WBHHS release read.
The annual Wide Bay Hospital and Health Service Excellence Awards this year recognised the "outstanding" achievements of clinical and non-clinical staff in the face of escalating presentation numbers and the COVID-19 pandemic.
Award categories were based on the WBHHS values of Collaboration, Accountability,
Respect, Excellence and Through Patients' Eyes, while other awards included Cultural Connections, Volunteer and Board Ambassadors.
WBHHS Board Chair Peta Jamieson said the awards were an important way to recognise the
contributions made by clinical and non-clinical staff as well as volunteers.
"WBHHS staff and volunteers go above and beyond to deliver the best possible care and outcomes for our patients," Ms Jamieson said.
"The awards provide an opportunity to recognise how our teams display our values each day as they collaborate, strive for excellence, respect each other and their patients, maintain accountability for their actions and ensure their patients are at the centre of everything they do.
"We're proud of the outstanding effort they put in serving their community and its great to say thank you for the important work they do each day," she added.
WBHHS Chief Executive Debbie Carroll said the annual awards were an excellent reminder that the everyday actions and commitment of staff and volunteers made a real difference to the care of their patients.
"Our hospital and services across the region have faced unprecedented growth in demand and the COVID-19 pandemic – so it's easy for staff to be too busy to actually reflect on what they've achieved," Ms Carroll said.
"That's why the Excellence Awards are important – it's our chance to recognise our colleagues for their outstanding work and for each and every member of our team to reflect on their own achievements and dedication.
"Looking at the finalists and winners, it's really pleasing to see so much diversity – in the geographic areas people are from, in the services they provide and in the projects they've been working on."
Sue Finger from the Mundubbera Hospital team was also a finalist for the Board Ambassador Award alongside Biggenden's Loretta Mooney.
Award winners:
Collaboration – Shatter The Stigma committee (across region)
• Accountability – Nurse Manager Teams (Hervey Bay, Maryborough and Bundaberg)
• Respect – Dr Himali Ihalagama (Hervey Bay obstetrics and gynaecology)
• Excellence – International Dysphagia Diet Standardisation Initiative (across region)
• Through Patients' Eyes – Kobi Pollock (Bundaberg Hospital paediatrics)
• Cultural Connections – Corsino Bacatan (Hervey Bay nurse navigator)
• Volunteer – Sandra Nagel (Maryborough chaplain)
• Board Ambassadors – Ramen Kaur (Bundaberg), Leighann Lyttle (Hervey Bay), Fiona Prescott
(Maryborough) and Loretta Mooney (Biggenden)