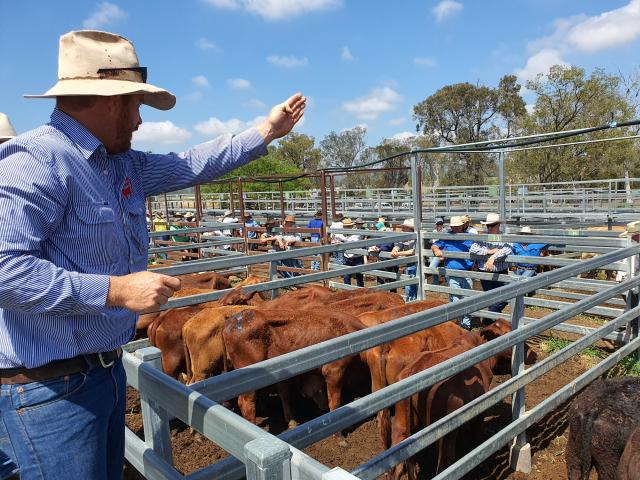 by Jessica McGrath
2021 was a big year for the Burnett rural and agricultural industry, including winning state titles in the Ekka competitions and records broken at Burnett saleyards. We asked some of the saleyards across the region their 2021 records and highlights as well as their predictions for 2022. Here's what they had to say:
Eidsvold Livestock & Property
Eidsvold Livestock & Property's Trish Bygrave said they had been very excited for the October Cattle Sale on 27 October 2021, where steers reached a record of 750.2c/kg, however this was well exceeded recently. Our top prices for Steers, Heifers and Cows and Calves have all been broken at the 8 December 2021 Prime and Store Sale with results as seen below:
Cows and Calves (Brahman Cross) reaching $3,800.00
Charbray Steers in the 200-300kg category reaching $842.2c/kg , 204.6 kg and returning $1714.48
Charbray Heifers made 778.2c/kg , 255kg, $1984.41
Eidsvold Livestock & Property's major highlight for 2021 was the great prices received for cattle sold. They saw the prices continuously climb throughout the year, especially in the last few months, which had been topped off with some much needed rain.
Another highlight for Eidsvold Livestock and Property has been the yard upgrades such as:
– the completion of the Double-Decker Ramp
– the addition of new delivery yards near the ramps
– upgrading wood to steel rails throughout the yards
– updating our dip facility
– the addition of another wash bay
As for 2022, the team at Eidsvold Livestock & Property reckons the market for the new year has every indication that it will continue to be strong. With the recent rains, this has now given people the option to keep their cattle for longer, potentially allowing them to hold onto breeders with ease.
Burnett Livestock & Realty, Biggenden
Burnett Livestock & Realty's Lance Whitaker said the cattle prices at the Biggenden saleyards was a highlight of 2021.
"The continued rise in cattle prices has defied expectations and the joy this has given our vendors has been great," he said.
"Selling over 11,000 head through our saleyards in February would be another highlight – our biggest month ever, with good prices and good cattle."
Biggenden's stand-out sales records for 2021 included: Weaner steers keep breaking the records with the current top cents per kilogram record standing at 866c/kg. That same sale (6 December – our final meatworks and store sale for 2021) heifers cracked 800c/kg – another new record for heifers.
Mr Whitaker shared what he thought the market will look like in 2022.
"The start to the season has been tremendous and it feels like the flow of cattle will slow down a little now," he said.
"This will probably support the market to be dearer in the new year, or at least keep it firm for a good while.
"We have been expecting the market to ease a little for a long time now and it continues to defy our expectations.
"The widespread rain will make sure the demand for cattle will remain very high and the supply of cattle will be less.
"I think it will be a good time to sell and a tough time to buy, and there will continue to be a lot of happy cattle breeders."
Mr Whitaker said it was a great time to be in the industry.
"Cattle producers are well known for sharing the wealth in the good times, and we are seeing that right now with the flow on effect boosting businesses like engineering and manufacturing, fencing, equipment retailers and all across rural towns and communities, there is a lot of joy out there," he said.
Monto Cattle & Country
Monto Cattle & Country's Brad McInally shared his highlights of last year.
"Continued support from our loyal vendors, buyers and exceptional staff once again. As well as seeing Louisa Bambling very close to 100 settled house and land sales for the year. 20,000 head of cattle sold and Clare Stark achieving $22,000 for a mare presented by a returning vendor at the Monto Bull & Working Horse Sale," he said.
Some 2021 records for Monto Cattle & Country include weaner steers sold to 852c/kg and weaner heifers sold to 747c/kg. Cree Santa Gertrudis bull sale topped at $40,000. $22,000 was realised for a mare at the Monto Working Horse sale with an average of $10,785 for the sale. Also the Annual Monto All Breeds Bull Sale saw $17,000 as the top price paid for a Brahman bull.
Mr McInally predicted the wet summer will set up for a strong market in 2022.
"Personally, I think it will remain very strong but there could be a slight easing in some markets particularly with better conditioned cattle after a very wet start to the season," he said.
Monto Cattle & Country would like to thank all vendors, buyers and underbidders on livestock and wish all purchasers and vendors of properties and houses every success for the future.
Queensland's best young auctioneers
The Burnett may not be home to the biggest cattle sales, but the region now lays claim to the best young auctioneers in the state. Kingaroy's own Corey Evans was lost for words when it was announced he was the 2021 ALPA Queensland Young Auctioneer winner at Roma.
The young 23-year-old auctioneer representing Aussie Land and Livestock competed at the Australian Livestock and Property Agents Association Ltd state finals event at the Roma Saleyards on Tuesday, 12 October.
He was named the first place winner in front of his mate and runner-up Simon Kinbacher, a 22-year-old auctioneer who grew up in Biggenden, represented Elders Rural Services Rockhampton.
Both Mr Evans and Mr Kinbacher will now prepare to represent Queensland at the national finals in Sydney in 2022.
Queensland's Showgirl
The title of Queensland's State Showgirl has, for the second year in a row, been awarded to a Burnett contestant, with the honour for 2021 going to Mundubbera nurse Brittany Kugel.
Ms Kugel attended the State finals in Brisbane during October 2021, where she was announced as the winner, coming out on top over ten other skilled and passionate contestants.
The Mundubbera resident, who works as a nurse at the local hospital, said that she was surprised and overjoyed to hear the news of her victory, adding that her receiving the title of State Showgirl may give hope to others with similar backgrounds.