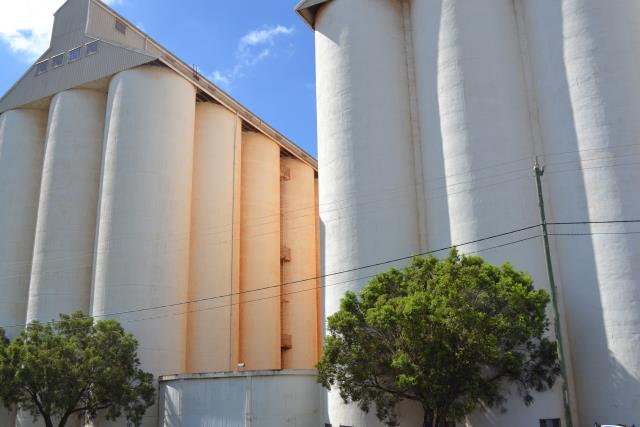 By Alayna Fong
When was the last time you looked up at the PCA peanut silos?
If it was between September and November, you may have been lucky enough to spot Kingaroy's very own Peregrine Falcons nesting on the top fire escape platforms.
The Peregrine Falcon is not a new local to Kingaroy, it has in fact been a local since the mid-1990s, keeping the pigeons away and catching the eyes of tourists and local photographers for more than twenty years.
Chris Seng worked at PCA for forty-two years before leaving in 2013 and is now an avid volunteer at the Kingaroy Information Centre across the road from the peanut silos.
He said before the falcons moved in there was a huge pigeon problem in town.
"Before then we [PCA] would have to get permission from the police to kill the pigeons at night," Mr Seng said.
"Then mid-1990s Peregrine Falcons moved in and from then on there was no more culling pigeons because nature took over."
Mr Seng said the pigeons would nest on the top floor leaving feathers everywhere and as salmonella carriers they needed to be culled.
"The falcons became a real asset to PCA," he said.
Currumbin Valley avian veterinarian Dr Peter Wilson said Peregrine Falcons are found in all areas of Australia and pigeons are a part of their natural prey items.
"Most of the pigeons they are taking are feral pigeons, they're not mating pigeons, so in a way they are helping to keep the feral pigeon numbers down," he said.
Dr Wilson said it was common too for falcons to stay in one place for a very long time as it provides safety for their offspring and provides good food sources.
Mr Seng said the falcons can be sighted most days from the Kingaroy Information Centre all year round, with the nesting season occurring usually from September to November.