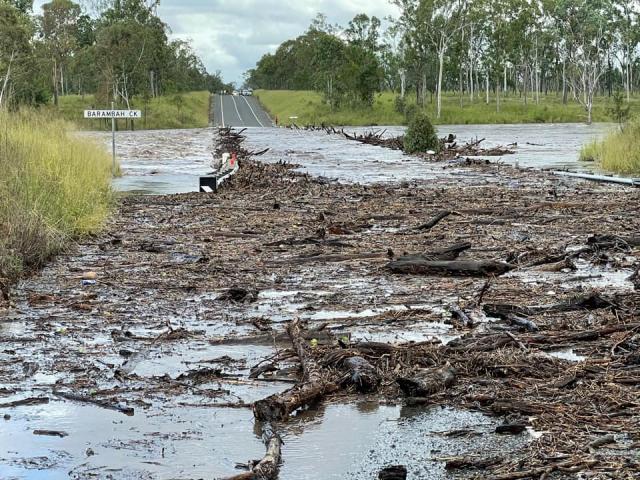 by Jessica McGrath
Intense rainfall last weekend in parts of the Wide Bay Burnett has left meteorologists and residents baffled by the 'rare' event.
People were urged to stay home and not travel on the roads if possible, while others were forced to evacuate their homes on Saturday, 9 January after intense overnight rain continued throughout the day.
Both general and riverine flooding was experienced right across the region, with Goomeri, Kilkivan and Dallarnil in particular experiencing severe flooding.
The Bureau of Meteorology reported on Saturday morning that overnight Kilkivan received 342mm and Glenwood received 506mm of rainfall.
Meteorologist Laura Boekel told the state press conference on Saturday that a really intense rainfall situation had unfolded on Friday night due to the remnants of ex-tropical cyclone Seth.
"It's produced thunderstorms that have sat stationary or very slow-moving overnight -so usually when we see storm activity it dissipates or it moves on, but we haven't seen that," Ms Boekel said.
"It's produced a lot of rainfall in a very small area that has remained overnight."
Wineries at Moffatdale flooded and the Krebs Bridge went under floodwaters, blocking off travel between Murgon and Wondai.
Ms Bokel said the rainfall had been very localised with the bulk falling in the Gympie region between Gympie and Tairo.
Over at Maryborough, huge barriers were put up as the city's central business district was evacuated as the Mary River rose.
"[Some areas] saw 600+mm, so a really extraordinary amount of rainfall in a short period of time," she said.
Ms Boekel explained this current weather event was incredibly rare.
"We rarely see thunderstorms sustained in the location for such a long period of time," she said.
"While we were expecting thunderstorm activity and were expecting heavy rainfall activity with that, the magnitude really escalated throughout the night."
Queensland Police are investigating the death of a man after his vehicle was submerged in flood waters at Kanigan on Friday, 7 January. After reports of a utility swept off the road near the Bruce Highway, police and fire and rescue swift water crews located the 22-year-old Sunshine Coast man, deceased inside his vehicle.
The debris and damage called for a huge clean-up earlier this week after the flood waters receded and the roads were cleared.
Meteorologists are currently keeping an eye on Tropical Cyclone Tiffany.
Cyclone Tiffany crossed Queensland's Northern Coast, Cape York Pennisula as a category 2 cyclone on Monday morning with destructive winds between 90 and 125 kilometres per hour. Heavy to intense rainfall was expected for northern Queensland with localised totals of up to 250 millimetres possible.
GIVIT is the recognised charity working in partnership with the Queensland Government to pull together the GIVIT Storms and flooding appeal. More information here: burnetttoday.com.au/south/2022/01/12/how-to-give-to-those-affected-by-wide-bay-burnett-floods/