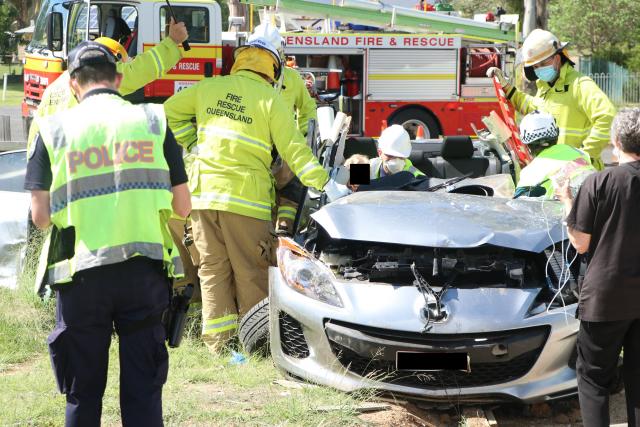 by Julian Lehnert
A two-vehicle crash on the intersection of Wickham and Church Street, Nanango, this morning saw an elderly motorist trapped in her car, requiring a joint rescue effort by paramedics, firefighters and police.
Queensland Fire and Emergency Services crews arrived at the scene of the crash in Nanango at approximately 8:50am today, 14 January, where they encountered two heavily damaged vehicles, one with an entrapped driver.
A witness living nearby, who was one of the first to attend the scene of the crash, said that one vehicle, a silver sedan driven by an elderly woman, was impacted on the drivers' side by a dark grey four-wheel-drive at speed when both attempted to cross the intersection.
The 4WD came to a rest in the centre of Church Street, while the sedan reportedly spun out, crashing through the fence of a corner block property which is currently under construction.
"I quickly called the nurses from the [nearby] nursing home," the witness said.
After alerting the authorities to the crash, the witness reportedly freed two dogs from the backseat of the sedan, where they were secured by seatbelts.
"Dad always says this crossing is shocking," they said.
"They need to make it a bigger sign or increase the safety some other way."
The crash saw the intersection of Church and Wickham Streets blocked off, as first responders scrambled to ensure the safety of the elderly lady trapped in the sedan.
A QFES spokesperson said that firefighters removed the roof and B-pillar of the vehicle in an effort to free its occupant; the woman was reportedly removed from the car by 9:25am and left in the care of Queensland Ambulance Service paramedics.
A QAS spokesperson said the woman sustained hip, arm and shoulder injuries and was transported to Nanango Hospital in a stable condition, but may later be transported to a different hospital.
The occupants of the dark grey 4WD reportedly sustained no injuries.