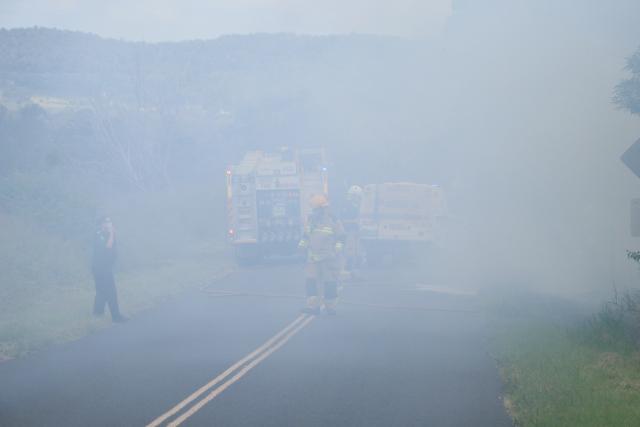 By Julian Lehnert and Jessica McGrath
Firefighters worked to extinguish a car and subsequent grass fire at Booie this afternoon.
A Queensland Fire and Emergency Services spokesman said the car on Malar Road, near Kingaroy Barkers Creek Rd, was 'well alight' when the incident was called in at around 2pm on Thursday, 13 January.
First responders quickly rushed to the scene; two QFES crews and police officers attended to secure the location.
A Queensland Police Service officer at the scene explained that the occupant of the vehicle, a Booie woman, managed to pull over and exit her car when she realised it was catching on fire, and that she escaped unharmed before alerting the authorities.
"She said she was just driving along, then smoke started coming up into the inside of her car, so she jumped out and got the hell out of there," the officer said.
"She said that had never happened before, and then it suddenly ignited."
The car fire reportedly spread to the surrounding foliage, with firefighters working in tandem to bring both the burning vehicle and the grass under control.
A QFES firefighter who worked to extinguish the car reported that the incident was quickly attended to and has, as of writing, been resolved.
"It's under control – it's out now, we're just cooling down the car and making sure the grass surrounding it is out too," he said.