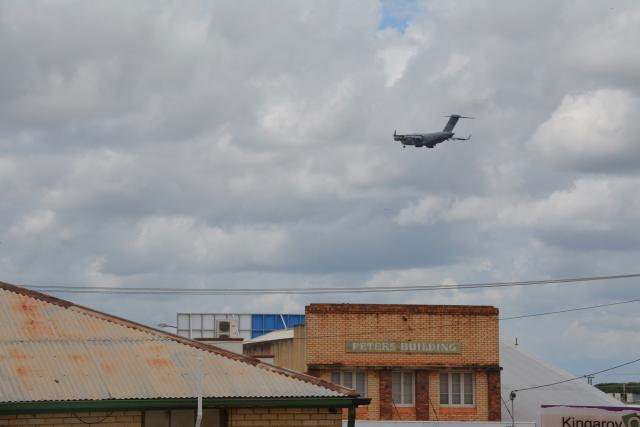 by Julian Lehnert
The skies above Kingaroy were abuzz with the roars of plane engines last week, with residents startled by a Royal Australian Air Force cargo aircraft flying just a few dozen metres above the town as part of a training exercise.
The spectacular sight graced the Kingaroy airspace around noon on Wednesday, 19 January, with multiple reports reaching social media that a large grey aircraft was flying over the town.
A Department of Defence spokesperson confirmed the plane to be a C-17A Globemaster III, a type of heavy transport aircraft, on a routine training mission.
"[The mission] comprised of flying circuits and approaches at Kingaroy Airport," the spokesperson explained.
"The C-17A crew conducted low overshoots as part of this training, where the aircraft descended to a minimum altitude of 45 metres over the runway during the landing approach," they added.
"Following this training, the crew returned to their home base at RAAF Base Amberley, west of Brisbane.
"The intent of the training mission was to expose the crew to unfamiliar aerodromes outside of controlled airspace, and to maintain their proficiency in C-17A flight profiles," the spokesperson said.
Social media users quickly began discussing the fly-over once the noise had settled, speculating as to the plane's origin and purpose.
"It was so close to our house at first we thought a plane was crashing into it," one Facebook user wrote.
"Where I was it flew that low I thought it was landing on the road," another added.
The C-17A Globemaster III is one of eight of its kind operated by No. 36 Squadron out of Amberley, making up the backbone of Australia's air transport fleet.
According to an RAAF fact sheet, the 128-tonne, four-engine aircraft is fitted with a cargo bay ramp that allows it to airdrop cargo in-flight.
It can reportedly hold up to 77 tonnes of cargo, including tanks and helicopters, can be converted into a medical rescue aircraft and can even be refuelled mid-flight.
The 53 metre-long Globemaster can reach speeds of up to Mach 0.74 – close to 830 km/h – and fly at altitudes of up to 45,000 feet (13.7 kilometres).
It has seen use in Australian Defence Force operations overseas, including missions in the Middle East, Afghanistan, and East Timor.
"The RAAF operates a fleet of eight C-17A Globemaster IIIs, which are extensively used in support of Defence Operations and wider Australian Government initiatives," a Department of Defence spokesperson explained.
"Mission planning is carefully undertaken to ensure impacts to the community are minimised where possible."