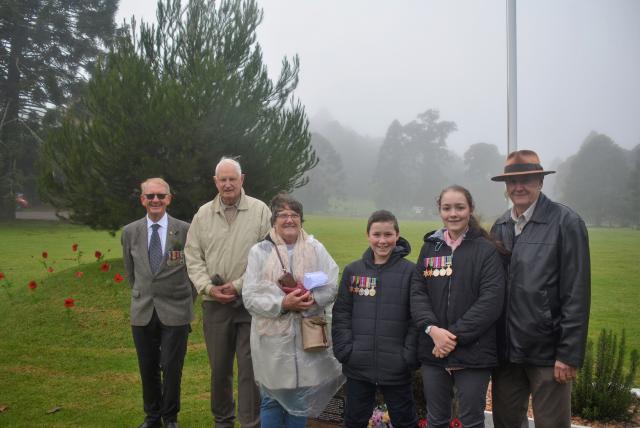 by Jessica McGrath
A Lone Pine on the hill surrounded by red poppies withstood the wind and rain as Bunya Mountains locals paused for Anzac Day.
Alexander Berry gave the Anzac address and shared about his childhood friend Private Albert McCormack and how his war story was interwoven with Private Dennis McCormack's.
Amid a backdrop of thick mountain fog Terry Joyce welcomed the group of locals and long weekend tourists alike.
His grandchildren Lachie and Amelia Joyce later joined him to help lead the group in the 'Anzac Day Uniform Resolutions'.
The trio have long been attendees at the Bunya Mountains Anzac service over the years and Lachie and Amelia have 'grown up' with the Bunya Mountain's 'lone pine'.
This particular tree is actually a descendent of the original Lone Pine.
The children were there when it was planted by the Bunya Mountains residents on the 90th anniversary of the Anzac Landing on 25 April 2005.
Lone Pine was the scene of a major offensive launched by the first Australian Infantry Division on 6 August 1915. The Turks had cut down all but one of the Aleppo Pines on the ridge to use as overhead cover for their trenches.
Within three days of mainly hand to hand fighting, the first division lost more than 2000 men. The Turkish losses exceeded 7000 in the battle, while there were seven Victoria Crosses awarded for heroism.