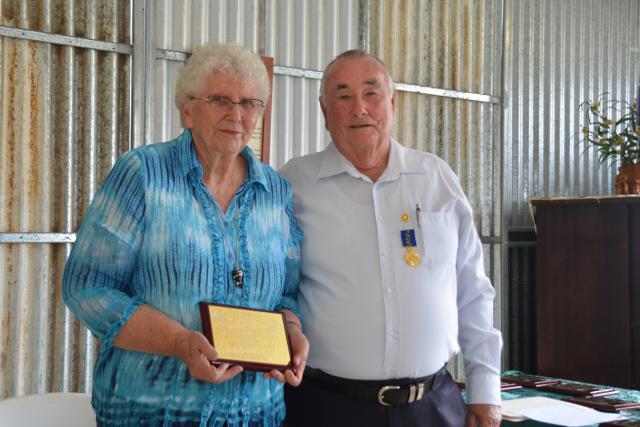 by Jessica McGrath
Shirley Hickey was recognised for her decades of volunteering as the Murgon Business Development Volunteer of the Year.
Shirley was humbled by the 'Australia Day' award which was presented at a belated ceremony on 12 March.
"You could've knocked me over with a feather when they told me I'd won this, maybe 10 years ago, but not now," Shirley said.
"I still do like to get about and visit people who are unwell and can't come to these sorts of parties and I enjoy going to Castra very much -I like to talk to the residents.
"I'm still fairly active for an old 90-year-old."
South Burnett councillor Kathy Duff noted the vast number of groups Shirley had volunteered with when she read out the nomination.
"There are very few organisations in the local community who have not had the benefit of Shirley's time and generosity," Kathy said.
"Shirley came to Murgon as a young school teacher 70 years ago and has been a generous and committed volunteer ever since."
In the early years, Shirley focused on volunteering for organisations that involved her children.
Her legendary lolly shop at the St Joeys Murgon Fete raised thousands of dollars for the benefit of the school and parish.
Shirley was also very involved in her church, assisting with the liturgy, cleaning, catering, fundraising and was a member of the Catholic Ladies Auxiliary.
She is a long-time member of the Castra Auxiliary, known for assisting with Bingo, organising Christmas Parties and just spending time with residents who are unable to get out and about.
Every Friday Shirley attends the Mass at Castra and assists with the liturgy and takes the time to chat with residents after the service.