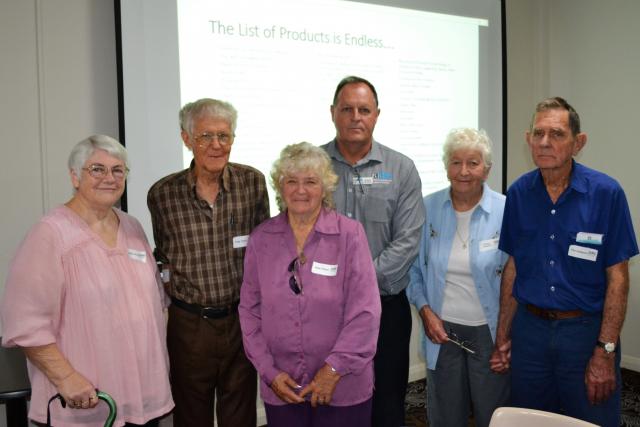 Euan Morrisson
Be aware of asbestos risks -warns the Asbestos Disease Support Society.
The Asbestos Disease Support Society (ADSS) and Turner Freeman Lawyers held an afternoon tea for their members at the Kingaroy RSL on Thursday, 5 May.
According to Asbestos Awareness Australia, more than 4000 people die from asbestos-related diseases each year -this is thousands more deaths than the national road toll.
In 2020, the number of road users killed was 1106, according to the Bureau of Infrastructure and Transport Research Economics' Road Trauma Australia 2020 statistical summary.
Trevor Torrens, the Kingaroy support event's key speaker, said that while cases of Asbestosis were trending down, another asbestosis-related disease called Mesothelioma was more likely to see an increase in cases.
"We know it doesn't take a lot of doses. You don't necessarily have to have used it in a workplace," Mr Torrens said.
"The partners of men [who worked with asbestos] who washed the clothes, they didn't get asbestosis, or pleural plague, they got mesothelioma."
Another case of mesothelioma was in Brisbane.
"A toy wholesaler… he developed mesothelioma and he said he'd never done a renovation [or] picked up a hammer," Mr Torrens said.
"But through investigation, they found out that the toy wholesalers' business was close to a hardware shop and the hardware shop used to cut the fibro and the dust used to blow over."
Mesothelioma is a type of cancer that develops in the thin layer of mesothelial cell tissue that covers many of the internal organs- including the lungs.
According to the Cancer Council, the five-year survival rate for mesothelioma is approximately 6.3 per cent.
Mr Torrens said he expects to see a rise in mesothelioma from natural disasters and people doing DIY renovations.
"We saw a spike in mesothelioma diagnosis from Cyclone Tracy. We've seen spikes from the '74 floods," he said.
"I suspect we'll see spikes from the 2011 Brisbane floods, we'll see spikes from the Bundaberg floods, Townsville floods.
"I think you'll see some spikes from the recent floods in February… and good on the mud army. That's fine, but they go in and they rip things out."
Before Mr Torrens took on his role with the ADSS and learnt about asbestos, he too was part of the mud army after the 2011 Brisbane floods.
"It was probably not too bad, because it was still in a damp condition, but it was January, it was hot… and I just chucked it on the footpath and of course it dried out," he said.
When asbestos is wet it poses little threat, but when dry and frayed the fibres pose a serious risk. The particles are hundredths the size of a human hair so you often won't even see the follicles.
People doing renovations are also considered at-risk. Mr Torrens said any properties built before 1990 is very likely to have asbestos in it.
"Where we're seeing a trickle start to come through, which is going to increase, is home renovations," he said.
"Particularly people doing their own, they do DIY those people will try and save money, but a lot of them wouldn't know it's asbestos."
As the consequence of asbestos-related diseases usually take years before the onset is noticed, some people will take little care even if they know they're dealing with asbestos.
"They can't take back the exposure, but it's not like putting a finger into an electric socket and saying 'well, I shouldn't do that' they've been exposed," he said.
Mr Torrens said that silicosis- another dust-related disease, is one that more people are approaching the group for support.
Many of the people with silicosis that Mr Torrens has found, work with the manufacture and fitting of stone benchtops.
A lot of the factories where these stone benchtops are made did not have the right procedures in place -it is because of this lack of procedures that Mr Torrens said, that workers have developed silicosis.
"In fact, one of the fellows, who's in his 40s, told me it is like a badge of honour- you come out dusty… they've had intense exposure, because of the lack of controls," Mr Torrens said.
"We say there's a failure of the employers to provide a safe workplace and there's also a failure by the Work Health and Safety Regulator to ensure a safe workplace."