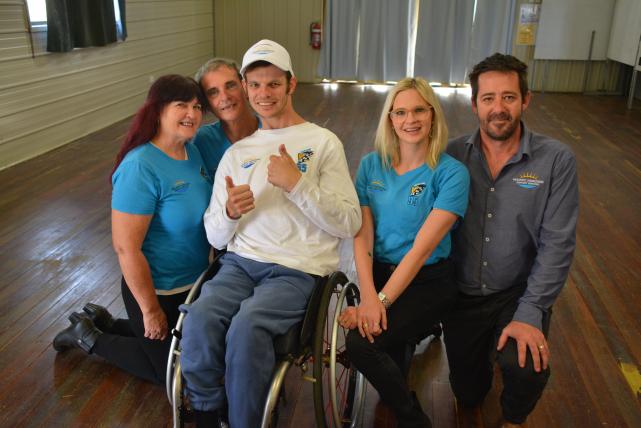 Euan Morrisson
Riding for joy and riding for a cause.
Nathan McDowell will be riding from Kingaroy to Redcliffe on his Top End handcycle.
He will be riding from 28 June till 2 July to raise awareness for a rare disease that he is diagnosed with, Pelezius Merzbacher Disease (PMD).
Nathan previously did a long ride from Noosa to Redcliffe, but this time he'll be doing almost double the distance.
At our meeting, Nathan said that his last ride went pretty well.
"It was mostly downhill," Nathan said.
This made his family and friends laugh, as they recounted something of a different story.
"It was a hard ride, he did amazingly well" Drew Cason, Nathan's friend and career said.
"We had to put him in ice on one of his breaks it was that hot," Robin Tayler, Nathan's step-mum said.
For Nathan to try to retain much of his upper body strength he has to train consistently on his custom Hand Cycle.
It helps him stay as independent as possible and the marathon rides he trains for bring meaning to his life.
Drew Cason is a carer from Holistic Horizons and a dear friend of Nathan's.
Drew said that when they first met in 2014, Nathan was a different person.
"I love you mate, but you were horrible," Drew said as Nathan chuckled.
Drew said that when they first met, Nathan's mental health was on the rocks.
"He just wanted to die, every morning was three hours of trying to change his frame of mind from the negative to the positive."
With the incredible help from Drew, his loving family and supporters, Nathan's mental health has turned around.
"And now, I don't see the negative anymore," Drew said.
Drew believes that Nathan's father, Gavin McDowell, ought to be up for father of the year.
Nathan's family recounted a story of when they had gone to Fraser Island.
"He's the only person in a wheelchair to make it to the top of the Fraser Island Lighthouse the Ranger said," Robin recounted.
Sandy Cape Light, Fraser Island's lighthouse, has five internal floors, is 26 metres tall and is only accessible by a spiral staircase.
Gavin carried his son over his shoulder, all the way to the very top of the lighthouse.
This is one example of the pair's shared taste for adventure.
"He's Evil Knievel in a wheelchair," Robin said.
Due to his PMD diagnosis, Nathan lives with daily pain, especially in his stomach and digestive system.
PMD is a rare, terminal, genetic disease that affects the growth of the myelin sheath, the fatty insulator covering nerve fibres in the central nervous system.
Nathan also lives with Cerebral Palsy and Spina Bifida.
Research into the PMD, the family said, primarily happens overseas in the US and Italy.
Part of Nathan's goal for his ride is to try and kickstart research into the disease here in Australia and to eventually start up his own charity 'Ride for Nathan'.
He would like the long ride to be his legacy, so that maybe one day, no one will suffer from PMD.
If you would like to support Nathan on his ride you can do so by following his Facebook page- www.facebook.com/nathansbigride or his gofundme page at www.gofundme.com/f/nathan-mcdowell-ride-for-life