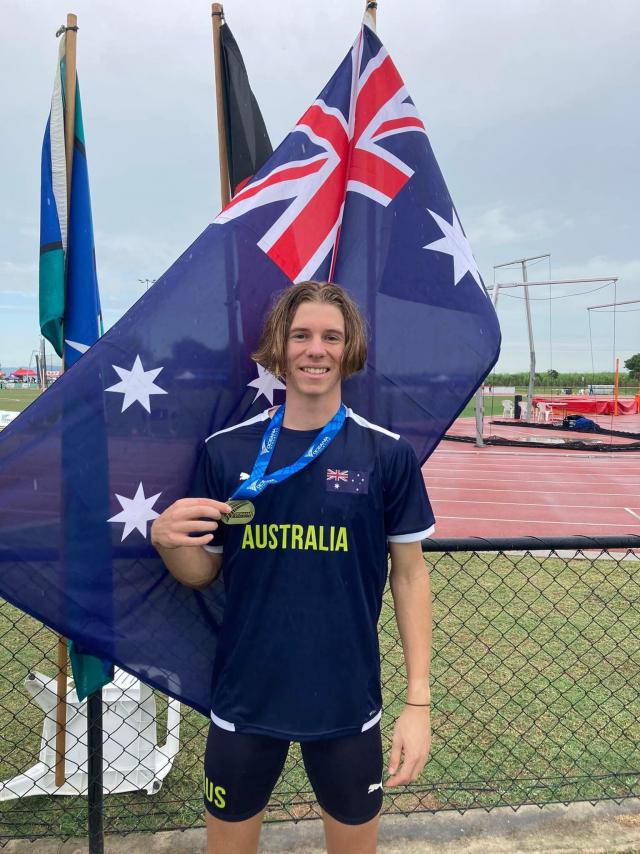 by Jessica McGrath
Representing Australia for the first time, Harrison Weil already has a gold and silver medal to his name.
The Nanango athletics star competed in the under-18s competition at the 2022 Oceania Athletics Championships in Mackay from 7 to 11 June.
"It honestly felt like an out-of-body experience, having my country written on my chest and having my name underneath that, it made me extremely happy and proud to have won for my country," Weil said.
The Nanango State High School Year 12 student won first place in the Oceania under-18s men's long jump and runner-up for triple jump.
"My highlight of the whole competition would've been the feeling of how real everything feels now," he said.
"I have worked incredibly hard over the last few years and now that I have represented Australia I am starting to get rewards for the work I have put in."
The under-18s long jump event was a tough competition, but Weil managed to finish on top with a gold medal on 7 June.
Weil was relieved to hear the results announced.
"It was a fair and tough competition and hearing my name announced as the champion was crazy, I went straight to my dad and gave him a hug and gave out handshakes to people who were impressed or proud of me," Weil said.
As the long jump event started there was a bit of rain around and Weil slipped on the board during his first jump.
"My first jump of 6.64m was not my best but it was good enough to put me in first place," Weil said.
"My next jump was 6.96m but my third jump was my best, jumping 7.07m which equalled my best ever jump."
Up against seven other competitors from Australia, regional Australia and French Polynesia, Weil was feeling confident sitting in first position going into the finals.
"At this stage I was feeling pretty confident about my chances as I was the only jumper to jump over 7m, this allowed me to really attack my final jumps," he said.
"My best jump in the final was 7.05m but my preliminary jump or 7.07m was good enough for the win."
The long jump runner-up was Joshua Sullivan with a jump of 6.88 metres.
The following day, on 8 June, Weil secured a silver medal and personal best at his second event, triple jump.
Weil said the Oceania Athletics Championships were special for him to have his family and friends there to see how far he had come and 'how capable' he is to go 'even further'.
His younger brother Cooper also competed at the Oceania Championships, representing the Sunshine Coast team. Read more about the Weil brothers at the Oceania Championships on page 62.