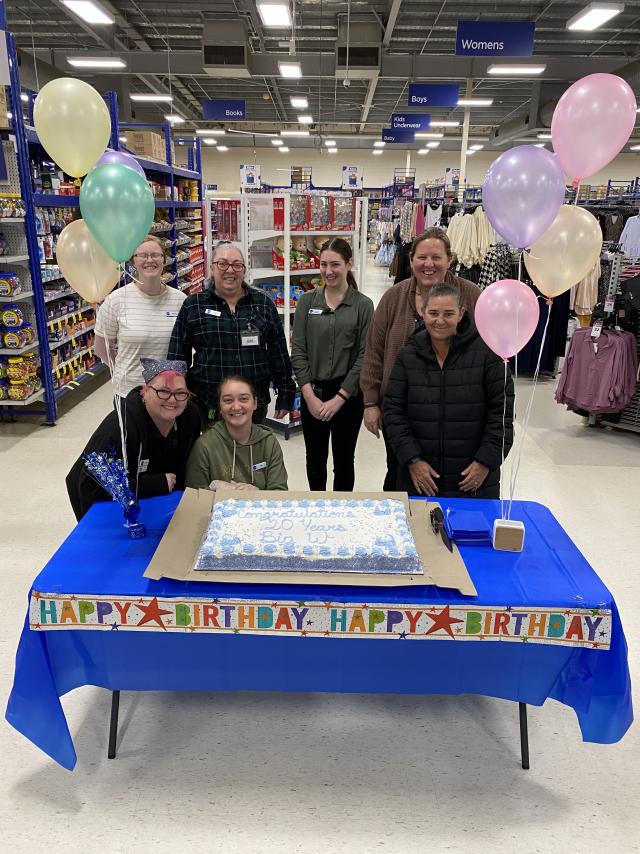 Euan Morrisson
A BIG celebration in Kingaroy last week.
The BIG W in Kingaroy turned 20 years old last week.
Two team members have been there since the store first opened, Assistant Store Manager Bethina Ashelford, and Fill Leader Deborah Law and they remember it like it was yesterday.
"I really can't believe how fast the time has gone," Bethina said.
"I remember spending six weeks prior to opening, setting up the store and we were all so excited as it was going to be the only discount department store in town."
"The store has had several refits and layout changes to reflect the needs of our community and we will continue to listen to our customers and make updates to the store when we can."
Since opening, BIG W Kingaroy has expanded its cosmetic section, had a refit at the entrance, and updated its fixtures.
The installation of self-serve registers also changed the store layout and how team members interacted with customers.
Janelle Stranger is currently leading the Store Team and Admin Team.
Janelle has worked at BIG W with her four children, Megan, Hollie, Brendan, and Bradley.
Three of them are still working at the department store, but they do not work in the same areas as their mother.
"We work in different areas, I don't see them a lot through the day, but it's nice to touch base every so often," Janelle said.
Janelle said that while she works with some of her relatives, the whole team is like family.
"It's always nice to see them all. We know what's going on in each other's lives."
Matt Sauer is a manager at BIG W Kingaroy and has been working there for six years.
He said the Kingaroy store, is a beautiful store.
"It's a good shop," Matt said.
"After I moved here, we got a handwritten letter from a little girl who wrote that when she grew up, she wanted to be a manager at BIG W."
"We made her an honourary staff member for the day. We showed her around the store, took her to meetings and everything."
That little girl has been chasing those dreams as she is now employed by BIG W Kingaroy.
Matt said that the store will be having some new updates that he and the rest of the team are very excited about.
they're also excited to show customers both new and old all the changes that will be happening in the not too distant future.
Emily Pratt is a current team member at BIG W Kingaroy.
Emily started working at BIG W alongside her mum.
Her mum told her not to date people that she works alongside, but then she met a former night filler at the store, Jesse Barnes.
The pair are now happily married with two children.
The BIG W crew put their shops 20 years in business down to the great Kingaroy and South Burnett community.
"The community has supported us for 20 years. Without the community coming in, we wouldn't be here."
The BIG W crew mourns the loss and celebrates the life of Spence.
Spence often sat on the bench in front of the store.
On the news of his passing, the BIG W team dedicated flowers at the bench for him.
He was a man who touched many lives not just in the BIG W crew or the shopping centre, but the broader South Burnett community.