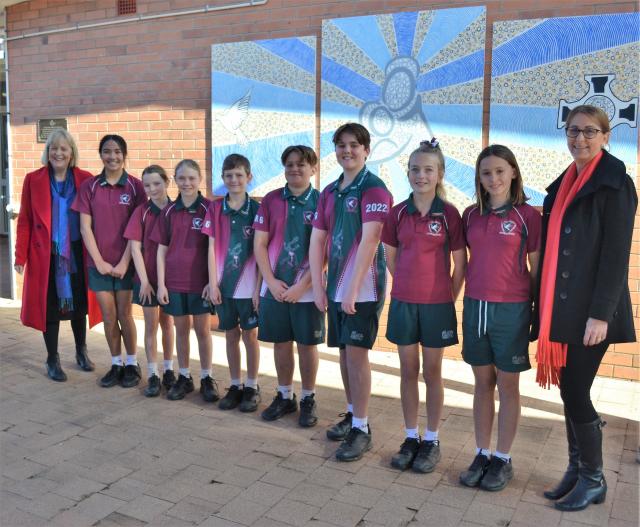 Euan Morrisson
The next generation of leaders were officially handed their new responsibilities and badges.
Saint Mary's Catholic College held its 2022 Year 6 leadership ceremony on Thursday, 28 July.
The elected leaders were presented with their badges in front of their peers in the schoolyard.
The primary school captains are Joseph Carney and Levi Madigan.
Captains for House Rush are Amelia Steinhardt and Viana Westerman.
Captains for House Quinn are Hunter Sutton and Paige Baron.
Captains for House Polding are Bella Harvey and Tahnie Hauritz.
Speaking to Joseph Carney and Levi Madigan, they both said they felt good about being voted as captains and were keen to get to work.
"I wasn't expecting to get school captain but I feel good about it," Levi said.
As a part of the election process, the pair had to deliver a speech to their peers.
While Joseph didn't mention his nerves about the process, Levi admitted it wasn't something he enjoyed.
"I am not very good at talking in front of people I was really nervous, but I did it," Levi said.
The pair said they ran on common-sense policies.
They were not about grandiose election promises that would be forgotten soon after the polls were closed like putting coke in the bubblers or a three-hour lunch break, they were focused on getting achievable results.
"I didn't make any promises like that. I just said how I can change the school and make it a better place, even though it already is," Joseph stated.
"[I said] I would always look after all the students and try and make it fair for everyone, all ages," Levi said.
Neither party wished to comment on the controversial change to see Year 4s disallowed from taking part in the voting process.
Mandy Sullivan, Saint Mary's electoral commissioner and acting principal, said that the voting process was carried out using the Australian preferential voting system and with the utmost integrity.
"These students were elected via the process," Ms Sullivan said.
"As part of their government unit, they learnt about how elections work. They culled them according to a proper electoral process and then the last ones standing were given the opportunity to have a speech and then we were to vote on them."
Ms Sullivan said that all of the candidates had given rousing speeches and many had already demonstrated their leadership capabilities.
"I listened to the speeches… and they were brilliant," she said.
"[Both captains] have got a good following."
Ms Sullivan said that the roles the elected leaders were undertaking were very much learn-on-the-job.
"It's about developing their leadership skills. It's really important… leading the younger students, relating to the younger students."
Ms Sullivan also noted that many of the successful candidates of the past had been keen networkers and displayed engagement with their constituents, even as many were too young to vote.
"Some of our past leaders have spent lots of time in Prep, lunchtime and morning-tea-time developing relationships with the younger students."
Readers of Burnett Today can rest assured that we will continue our electoral coverage and mission of holding power to account.