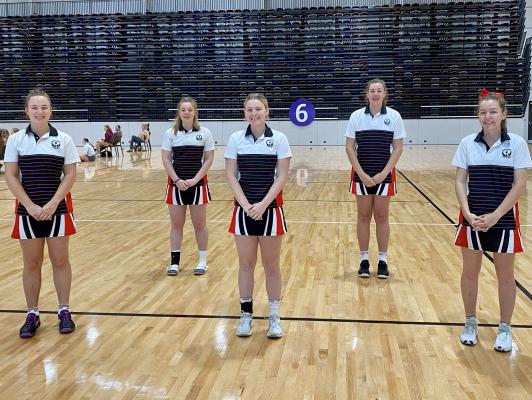 Laura Blackmore
Limiting spectators, sanitising the ball and elbow bumping instead of high-fives were just some of the changes netball players had to adjust to this year at the Queensland Championships.
Despite the new restrictions, five girls represented the South Burnett at the four day tournament as part of the Wide Bay team.
Chelsea Whye, Tiarna Hurt, Tahlia Hoschinike and Charlotte Hams represented Kingaroy State High School alongside Nanango State High School student Taylah Kidman.
Held at a number of venues across Brisbane, the girls ended up coming seventh out of 12 for the 16-19 year-old division, which was the best result the squad had achieved in a number of years.
Whye said she was happy to have been able to take to the court after fearing the whole event would be cancelled.
"It was definitely really upsetting when we got told it was going to be cancelled.
"We went away to Wide Bay trials in Bundaberg and we all got named in the team.
"Literally the day after the team was announced the state championships got cancelled.
"For Tiarna, Tahlia, Taylah and myself who are in Year 12, we wouldn't have been able to play in the championships again."
"It was so good to be able to have one last year all together and play with some of the other girls from Hervey Bay and Bundaberg as well."
At the four-day tournament Hoschinike said they held their own on centre court as they battled it out against girls from all over Queensland.
"There were a few really hard teams this year," Hoschinike said.
"Brisbane Metropolitan East won the competition and we only lost by 7 to them."
"It was different this year because we could only have one spectator per person and had to sanitise the ball.
"It was still a really good environment though to be around the team."
Looking to the future, Kidman said her next step would be trying to find a club in Brisbane.
"Next year I will be moving to Brisbane to study Pharmacy," Kidman said.
"At the moment myself, Chelsea and Charlotte are playing and training in Toowoomba.
"It's definitely been a big step up playing in that competition and I hope I can keep playing competitively when I move for uni."
Similarly, Whye said she was moving to Brisbane for university and aspired to find a club down there.
In 2021, Hurt and Hoschinike said they would stay in the South Burnett but would look for new opportunities to continue playing netball at a competitive level and Hams would still travel down to Toowoomba to train with the Panthers as she enters Year 11.