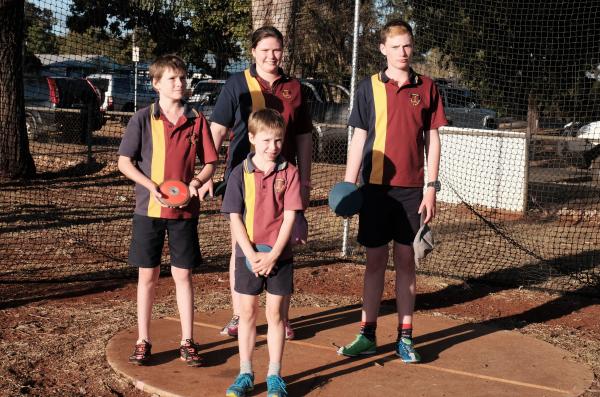 By Jessica Mcgrath
The sports records board at Goomeri State School is starting to fill up with the Richards family name.
The sibling rivalry is strong in the family from Tansey, especially when it comes to athletics events like discus.
Landon (7), Eli (10), Connor (13) and Maddison Richards (15) all broke school discus records at their school athletics event in March this year.
Year 7 student Connor threw a 1kg discus 29.55 metres – breaking a 1984 record of 27.90 metres.
"I was very excited and glad I broke it," Connor said.
"It's a small school, (but) it's a pretty big thing to do to break the school records at Goomeri State School."
Sister Maddison recorded a 29.06-metre throw for the 1kg discus category, set in 1985.
The Year 9 student broke the 35-year-old record of 26.85 metres set by Gai Kapernick, an athlete (also from Tansey) who competed internationally for Australia in high jump.
"To break one of Gai's records was special," Maddison said.
"I'd seen the record and I achieved it – I had aimed to break them."
Year 5 student Eli threw a 500-gram discus 24.55 metres – breaking the school record of 22.15 metres set in 1998.
Whereas, Year 1 student Landon managed 14.98 metres with a 350-gram discus, breaking the previous record of 11 metres.
Eldest child Maddison tried out discus when she was in Year 6.
"I just started liking it and went from there," she said.
Then siblings like Eli also fell in love with the unique family sport.
"It's fun, it's exciting, (and) it gives you a challenge," Eli said.
"You need speed, strength and technique."
Landon has been "mucking around" with a discus since he was three-and-a-half-years old.
Proud mum Fiona Richards said it was a big achievement for all four siblings to break the records.
"It was just exciting for all four siblings," she said.
"It looks good on the school record book."
There is already a bit of rivalry between Connor and Maddison, since they threw the same weights.
"When Landon and Eli get bigger they'll probably take over Connor's records," Fiona said.
The three boys were also named aged champions for their year levels.
"To break those records was their goal and they did it," Fiona added.
The students train five days a week with skipping and weights exercises before school, and technical practices after school.
The family built a concrete discus circle at home so they could practice on their Tansey property.
"They had a couple of weeks break from training and they missed it," Fiona said.
The students are now in their fourth season with Kingaroy Little Athletics and are enjoying the variety of challenges.