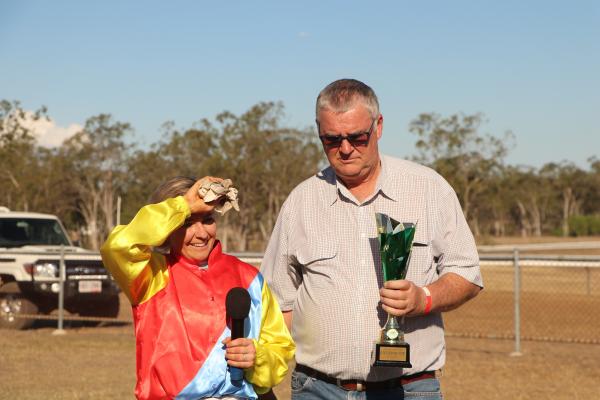 by Julian Lehnert
A Nanango jockey has won big at the annual Gayndah Races this Saturday, taking home the gold for four of the day's five starts.
South Burnett jockey Hannah Richardson won races 1, 2, 4 and 5 at the race meet, including the coveted Gayndah Cup, earning over $20,000 in prize money across the four races.
The Nanango rider secured a victory on Dalby mare Crafty Aquila to start the day followed by a close first-place finish in Race 2 on Senko Sidra.
After a narrow defeat in Race 3 Mrs Richardson took the lead once more in Races 4 and 5, finishing ahead of the pack on geldings Eight Over and Craiglea Arion respectively.
Her victory in Race 4 earned Hannah and her husband and horse trainer Glenn Richardson the Gayndah Cup trophy for the second year in a row.
"We're thrilled. We love this horse to death," Mr Richardson said on receiving the trophy.
After winning Eidsvold's Maiden Plate with mare Lady Magic last weekend, Mrs Richardson's dominant performance in Gayndah puts her at five wins in just two weeks – a statistic that the Nanango jockey attributes to preparation.
"We're so happy to win [the Gayndah Cup] again," she said.
"We've got a good lead here on these tracks. Must be what they put in the water in Nanango *laughs*"