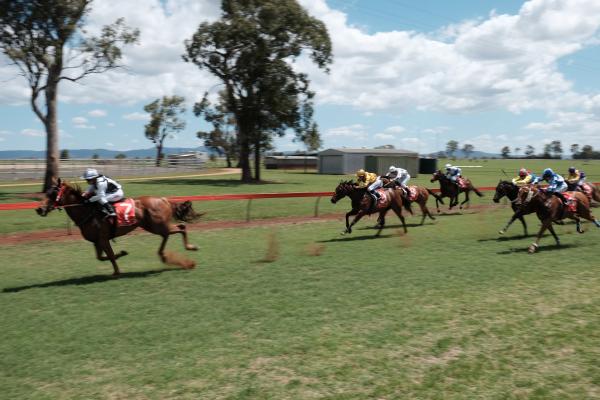 By Jessica McGrath
Two of Kumbia Races' victorious horses will take pride of place at Racing Queensland's upcoming Country Cups Challenge and Country Stampede.
Horse number seven, 'Diggity', took a strong lead during the first race of the day as the horses came down the final straight at the Kumbia Races Melbourne Cup Day.
Led by jockey Isabella Teh and trained by Tom Moloney, Diggity took out first place for the 1000-metre Country Stampede Qualifier Open Quality Handicap.
After the correct weights were declared, Metro Tramp was awarded second place, followed by Music Scene in third.
Diggity's owners, Dorothy and Bob Black, were excited about their win.
"Dorothy always backs number seven," he said.
The Burrandowan couple have owned the five-year-old gelding for 12 months and were impressed with his performance at Kumbia.
"He's a tryer, he gives it his best," she said.
The win has secured Diggity a spot in the first ever Country Stampede race at Brisbane's Doomben racetrack on Saturday, 5 December.
"It's pretty exciting to get a chance," she said.
Fellow race day place-getter 'Rather Salubrious' won Kumbia Race's last event – the Country Cups Challenge Qualifier/Huston Motors Kumbia Cup Open Handicap over 1400 metres.
Guided by Leeanne McCoy and trained by David Reynolds, Rather Salubrious took out first place in race number five.
They were followed by Chamberlain with jockey Tessa Townsend, and third place was Red Devil guided by Hannah Richardson.
Rather Salubrious, owned by D.W. Reynolds, S.P. McVeigh and M. Elliott, will now prepare to also represent the Burnett region at this year's 2020 Country Cups Challenge at the Doomben racetrack on 5 December.
Racing minister Stirling Hinchliffe announced earlier this year the $50,000 Country Stampede race would accompany this year's Country Cups Challenge on George Moore Stakes Day.
"The Country Cups Challenge was an exciting addition to the racing calendar last year and the Country Stampede promises to be just as eventful," he said.
The new sprinting series provides 16 of regional Queensland's best thoroughbreds an opportunity to line up at Doomben this December.
Racehorses are selected from the qualifying heats at race clubs across regional Queensland throughout October and November, including Kumbia Race Club's November event.
They will then compete in their respective Country Cup Challenge and Country Stampede finals.
With Covid-19 disrupting this year's Battle of The Bush series, Hinchliffe welcomed the creation of the Country Stampede.
The race series provides the opportunity for regional Queensland's best sprinters to win their way through to the Summer Carnival, alongside their middle distance counterparts.
"While there has been a lot of disruption throughout 2020, the Queensland racing industry has been tremendously resilient and has done a remarkable job given the circumstances," Hinchliffe said.
"With restrictions gradually being eased, the opportunity for racegoers to make their on-course return and to witness the 16 qualifiers vying for a berth in Brisbane is particularly pleasing.
"Racing boasts such a rich history in regional and remote Queensland and series such as the Country Cups Challenge and the Country Stampede play a key role in uniting them together."
In order to be eligible for either final, horses may not have won a metropolitan race in the past two years and must have started in one of the 16 regional Queensland qualifiers.
Kumbia's second race, the QTIS Maiden Plate over 1200 metres, had Miss Nasty, ridden by Leigh Wanless, take out the top spot followed by runners up Zou Zou Kacanarkis and Suzy Needs Lovin'.
The Joyce, Boy and Jenny Reed Memorial Burnett to the Valley Class 2 Plate over 1200 metres saw Valar Dohaeris cross the finish line first, with Forgotten Feeling and Miss Ready Now as runners up.
Craiglea Arion scored a win in the Jim Lenihan/Helen Smoothy/Win Lenihan Memorial Benchmark 50 Handicap 1400-metre race. He was followed by runners up Run Pam Run and third place Cash Bundle.