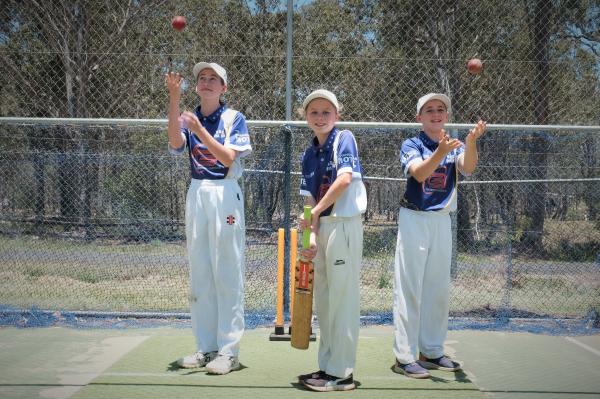 By Jessica McGrath
Three young girls are loving their chance to play in the under-12 South Burnett cricket representative team.
Charlie Steinhardt, 12, and Josie Black, 11, are taking on their first seasons in the representative side, while team mate Emma Cullen, 11, is tackling her second season.
The girls said it was "fun" and "exciting" to play at the level above their local club cricket competition.
Their under-12 representative side defeated Fraser Coast at Maryborough on 25 October.
In a game of 50 overs, the South Burnett team (2/129) defeated Fraser Coast (8/118) under the Duckworth-Lewis system.
The Burnett team secured its win, even though the match was rained out.
Charlie loved her moment on the pitch batting, while Josie enjoyed the mixed team's camaraderie.
"My favourite part about playing was when one of the team's players got 50 runs, when they got wickets we socialised," said Josie.
Emma agreed.
"I love it when you get wickets and everyone runs up and congratulates you and gives you high-fives," she said.
The three girls also play together on Saturdays in their club competition with the Nanango Scorpions' junior team.
Scorpions president Jay Steinhardt said it was great to see so many girls involved in club cricket, as the girls enjoy playing together.
The club games help them prepare for more representative matches coming up in December, alongside their training with the representative team.
With role models like international women's cricket star Holly Ferling and the Brisbane Heat's Courtney Sippel, it is easy to understand why these three girls love cricket.
Both Ferling and Sippel grew up and trained at a grassroots level in the South Burnett.
Ferling was actually added to the Queensland Fire's rookie list after a standout performance at club level at the age of 14 – only a few years older than Emma, Charlie and Josie are now.
Emma said her own cricket journey started when she met Ferling at a Kingaroy come-and-try game.
"Holly Ferling helped me to get started with my cricket," she said.
"She taught me how to bowl and gave me pointers, like when you're bowling keep the seam up straight, and how to hold the ball."
Emma has also been selected as a shadow player for the under-12 girls School Wide Bay team.
"I was one of the shadow players, but I got called in to play," she said.
The Wide Bay team has a competition in Bundaberg coming up where selectors will be keeping an eye out to field the state team.
"I'm a bit nervous, but I feel like I'm prepared for it," she said.