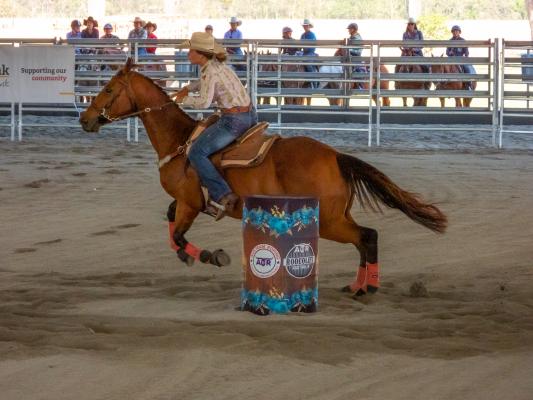 Kilkivan Showgrounds Equestrian Centre set the stage for the first competition run by Kilkivan Performance Horse Association (KPHA) recently… and what an event it was.
Competitors young and not-so-young, from our very own locals, southeast Queensland and interstate travellers, from beginners to seasoned riders, all nominated to compete in the sport they love, riding the horses they love.
Spectators were treated to an action-packed day of events, including roping and barrel racing, in both open and junior riders events at the event on 28 November.
It was no mean feat for the KPHA committee and volunteers, as the internal structure of the arena was fitted with panels, cattle yards and roping boxes, which were transported in and erected for the competition and then pulled down and removed after the event.
The wonderful KSEC roof provided reprieve from the heat of the day and spectators, competitors and livestock surely appreciated the cover and the beautiful breeze shelters from the 35 degrees.
There were 10 events run, over two rounds, with fantastic prize money (in total) of $6644 paid to the winners and placegetters.
The Kilkivan Performance Horse Association was formed with the dream of running these types of jackpot events, clinics and practice days at the amazing KSEC arena. KPHA is a non-for-profit association which has been fortunate in the success of recent grant applications, which have enabled the committee to purchase much-needed equipment to run these types of events.
KSEC is a wonderful asset to the Kilkivan Community, and it is hoped the Gympie Regional Council will continue to improve the infrastructure to attract big ticket events like the National Finals Rodeos, Australian Team Roping Association finals and much more.
KPHA as very proud of the support everyone gave to this event, making it the success it was. KSEC's future as a jewel in Kilkivan crown is set, and it will only get better with the support of the Gympie Regional Council and the people who hire and enjoy this magnificent venue.