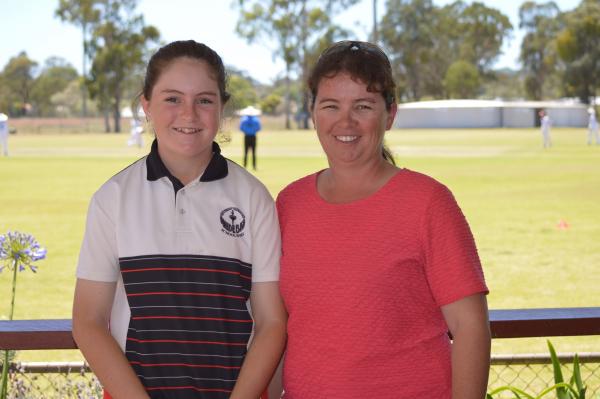 By Jessica Mcgrath
Cricket has become a shared passion for the Love family.
They connected with the sporting community when they first moved to the South Burnett.
Three years on, mum Jodie Love is now the South Burnett Cricket junior vice president.
"We've got a few young ones coming through and we've met a lot of great people through the sport," she said.
Jodie was recently awarded the Queensland Cricket Wide Bay Volunteer for October for her tireless work organising and promoting cricket across the South Burnett and Wide Bay.
"It was a bit of a shock – you don't do volunteer work to be rewarded," she said.
Her daughter Charlotte has also kept her family in the headlines, playing for the Queensland Girls State Carnival's winning side, the Wide Bay under-15s.
Jodie was recognised for her efforts to ensure children like Charlotte knew about opportunities to trial for regional teams.
"For me it was just trying to get these kids to trials because, being the distance we are from the other clubs, we were sometimes missing out hearing about when things were happening," Jodie said.
"By going to the meetings and knowing what is going on, we are able to get the kids seen by the Wide Bay coaches and selectors."
Jodie has worked her way up coaching Charlotte's teams.
Charlotte developed her love for cricket by playing in the Master Blasters on Friday nights before moving up to Stage 1, the under-12s school girls team, and then Stage 2 locally.
"This year I came back to Master Blasters because our younger daughter Kate is playing Master Blasters, so I coordinated Master Blasters this year," Jodie said.
"Hopefully then we can bring the next group of kids through."
This year Charlotte has trained with the Australian Cricket Institute in Toowoomba and played locally in Stage 3, and a bit of B Grade cricket when the teams are short.
"We try to give them a go against better batters and bowlers – it helps them improve their skills," Jodie said.
The 13-year-old then got the opportunity to play for the under-15 Wide Bay school girls team this year at the three-day Queensland championships carnival.
"It started off pretty slow, but we won the carnival," Charlotte said.
The young South Burnett cricketer was one of eight representative players who had been together since under-12s.
"It's a lot of fun to get your name out there and play with bit better players than the club level," she said.
Charlotte considers herself an all-rounder and has aspirations to play professional cricket with the likes of the Brisbane Heat one day in the future.
In the meantime, she has a few more competitions to go before the season is out.
She will play alongside Wide Bay and Sunshine Coast players with the under-15s Coastal Burners in a competition next week, and in January Charlotte is lined up to also play with the Darling Downs under-15 girls team.
Jodie said the Love family will be part of the South Burnett cricket community for many more years to come.
"We'll probably be involved in junior cricket for another 10 years given the ages of our kids, it's a great family of people, supporters and parents," she said.