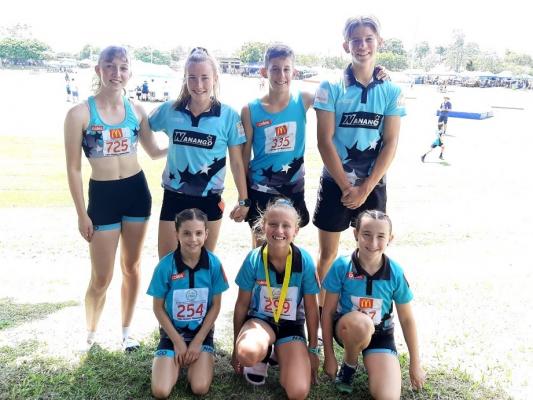 Nanango Little Athletics' eight athletes did their club proud at the recent regional championships at Deception Bay.
Nanango centre manager Brendan Weil said six of these young athletes went on to qualify for state championships.
He said there were many outstanding performances at the competition.
"Paige O'Connor breaking the 1500-metre record by more than 25 seconds, Harrison Weil winning all his events quite convincingly, and Cooper Weil qualifying for four events after recently recovering from a severe leg injury and ongoing leg issues," he added.
The regional championships mark an important opportunity for the athletes to meet new people and socialise with other teams and competitors.
"They get to compete against larger fields with quite talented athletes," Weil said.
"They get to hangout with their teammates and support each other, and they gain a heap of confidence when they do something they thought they couldn't."
Here are the results from each of the Nanango Little Athletics competitors:
Ada Kurz won bronze in 60-metre hurdles and made the final in the 100m (fifth), 200m (sixth) and 400m (fifth).
Mia De Jong came third in the 400m and made the final of the 100m.
Hannah O'Connor made the final in the 400m, placing sixth, and came sixth in the 800m.
Selina Birch came fourth in the 400m and made the final in the 200m (seventh), 100m (sixth) and long jump (seventh).
Paige O'Connor broke the regional record as she won the 1500m, and also placed third in the 800m.
Cooper Weil finished second in the 200m hurdles, fourth in the 400m, third in shot put, fourth in discus, and made the final in the long jump.
Harrison Weil won the 100m hurdles, discus, javelin, long jump and triple jump.
Amelia Schulke also raced really well with some encouraging results.