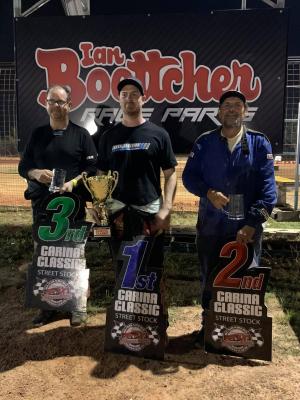 By Amy Buckingham
After restoring his car and driving through wet conditions, a Kingaroy driver claimed victory at a Bundaberg Speedway.
Kingaroy racer Nathan Barbeler won first place at the Autobarn Carina International Speedway on Saturday, 20 March.
Before he was on the track, Barbeler said he experienced issues with his car.
"I had a broken steering rack before the race which then broke again on the track," he said.
"The rear cradle also needed a change, so it was a massive week getting ready."
Barbeler said he focused on staying in a safe position during the first half of the race.
"I kept the car straight, sat back and bought some time," he said.
"I was coming second for a while when I was waiting for a good opportunity to pounce.
"After the switch and go I made my move and with the lap traffic I was able to get in the lead."
It started to rain after the 20th lap when Barbeler took the lead, and he said he was declared the winner after the conditions became dangerous.
"It was very slippery and hard to see because there was rain on the bonnet and my windscreen was fogging up," he said.
"I was a quarter of a lap in front when the race was called."