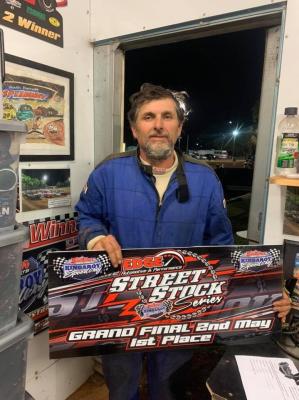 By Amy Buckingham
Snagging a quarter of a lap in front of two Kingaroy competitors, a 46-year-old Toowoomba driver took out the final stock series race of the speedway season.
Robert Trapp won the Edge Automotive and Performance Street Stock Series at the Kingaroy Show meet on Sunday, 2 May.
After qualifying with good times in the heats, Trapp said he was in an advantageous position to get a head start in the final where he was able to zoom in the lead to the finish.
"I made a jump from Nathan Barbeler, and I knew I had to get a good start to get past him because he was usually the one to beat," he said.
"I worked hard to keep my momentum while I sped to the finish."
This win was particularly satisfying for Trapp as he almost totaled his car at a meet in Toowoomba a week prior.
After his car collided with another vehicle and squashed up against the fence, fire embers sparked and car paneling flung, requiring repairs.
"I spent most nights during the week replacing just about every component in the car," he said.
"It made the win pretty sweet, and I felt satisfied driving around with the victory flag."
Kingaroy driver Benjamin Stead battled it out with Barbeler to secure a tight second place.
"I decided to race smoothly in the middle of the track because it was pretty greasy down low and slightly drier up high," he said.
"I knew Barbeler would be right behind me.
"Nobody was going to catch Trapp. He was in a league of his own.
"With my engine being due for a rebuild, I can't really complain with this finish."
Hot on his heels, Barbeler placed third in the stock series.
Kingaroy speedway will take a break during winter with races resuming in October.
Kingaroy Show meeting results
Junior Sedans New Stars
1st Mitchell Bayfield
2nd AJ MacDonald
3rd Cooper Flynn
Junior Top Stars
1st Jayden Hancock
2nd Kurtis Peal
3rd Bryce Bayfield
National 4'S
1st Brock Hancock
2nd Bevan Burton
3rd Brodie King
Edge Automotive and Performance Street Stock Series
1st Robert Trapp
2nd Ben Stead
3rd Nathan Barbeler
Production Sedans
1st Matthew Layton
2nd Brett Barron
3rd Josh Harm
Modified Sedans
1st Josh Harm
2nd Kent Shelford
3rd Jake Hawkins