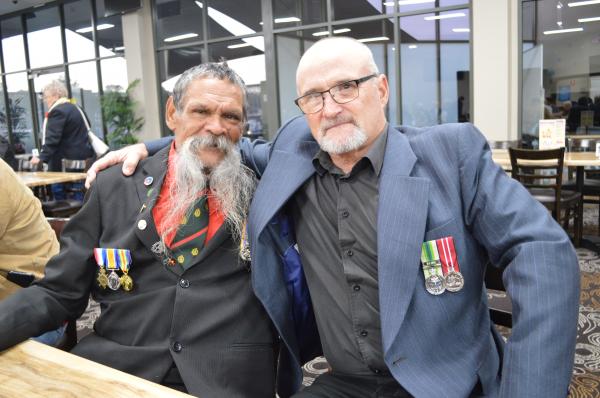 by Jessica McGrath
Anzac Day 2021 was extra special for Elgan Leedie who was reunited with his mate after 36 years apart.
Mr Leedie did the Welcome to Country and played the Lamont on the didgeridoo for the Kingaroy Dawn Service and Anzac Ceremony.
"You are standing on Wakka Wakka country… welcome to my fellow defence force members," he said.
His 'white-brother' Greg Shinners, who he served in the Delta Company with, travelled all of the way up from Geelong, Victoria for the Kingaroy ceremony.
The pair of veterans swapped stories and caught up between the two Anzac Day ceremonies.
Mr Leedie is very proud of his granddaughter who is currently serving in Townsville -the fourth generation in his family to serve her country.
"My grandfather and his three white brothers -during World War One they travelled to the Western Front and served together," he said.
"So my grandfather and his white brothers are buried somewhere in the fields of Passchendaele."
Mr Leedie has made the trip out to Belgium to see his relative's name inscribed at the Menin Gate.
"My heart goes out to the four of them, as only one white brother came back alive."
Mr Leedie is no stranger to playing the Lamont and Last Post for ceremonies and has played at several events on the didgeridoo and the bugle.
One of his strongest memories was playing the Last Post at a memorial site west of Monto when a whirlwind came through during the service.
He later placed rocks at the Burnett River in memory of his grandfather and his mates who came from Eidsvold.