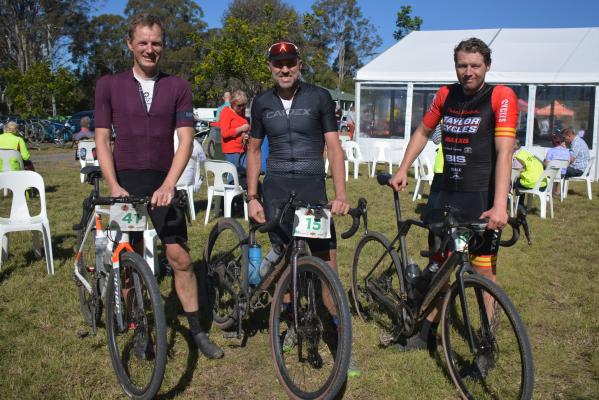 by Jessica McGrath
Rockhampton cyclist Glen Chadwick crossed the finish line first at the inaugural Yarraman Finish Line Festival.
He started at 6.30am alongside other riders at Wulkuraka -the start of the Brisbane Valley Rail Trail – for the full 161km ride to Yarraman on Saturday, 5 June.
Chadwick was then joined progressively by other riders at 8.30am at Toogoolawah (75km) and then 10am at Linville (44km).
Although it was a non-competitive, timed ride, Michael Giess and Joris Van Der Tang from Brisbane were the next across the finish line.
"It was not all smooth, mixed gravel surfaces," Giess said.
"It was very challenging because it's mostly uphill, you never stop pedalling… I was in survival, locomotive mode."
Ride Director Paul Heymans said the staggered start meant they got a mix of hardcore endurance distance riders and families as each cyclist got to choose their own challenge.
"It's been a great day," he said.
"It's not a race, we call it a timed, challenge ride.
"Some of the riders are even going to ride back afterwards."
The festival was the first time some of the cyclists had ridden the Brisbane Valley Rail Trail, travelling far for the event.
Gold Coast cyclist Pia Smith was the first woman to finish the full 161km ride from end to end of the rail trail.
Her fiancé Larry Dyer also completed the ride.
"It's amazing, it's so well organised and the trail is so much smoother, the conditions are amazing," Dyer said.
"I'd recommend anyone to come along, we'll be back for sure."