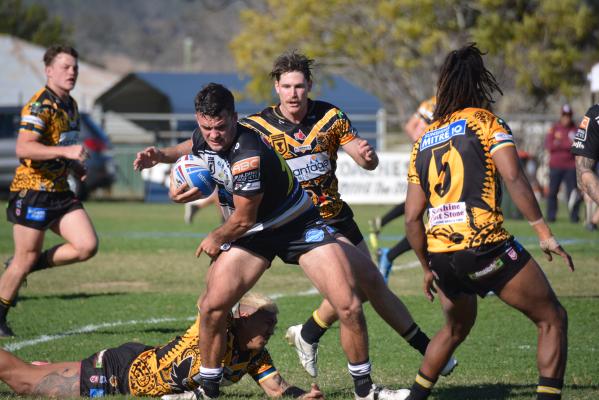 by Jessica McGrath and QRL
Tweed Seagulls pushed their way to the top of the pecking order at the recent InTrust Super Cup hosted by Murgon Mustangs.
The Seagulls secured a convincing 40-18 victory over Sunshine Coast Falcons.
Murgon Mustangs Rugby League Club president Scott Prendergast said the match had fantastic support from the community.
"It was an honour to be asked by Queensland Rugby League to host the game," he said.
"The club knows how to host a quality game in a positive light and I think we've achieved that."
Prendergast said they had great mix of junior games and quality A-grade competitions alongside the InTrust Super Cup match.
"It was a really positive day," he said.
The president thanked the group of volunteers for making the day possible.
"The Murgon Committee are just a wonderful group that are not only committed to sport but also the community," Prendergast said.
During the InTrust Super Cup, the Seagulls' right centre Treymain Spry scored three tries in his most dominant performance of the season.
Spry's first try came in just a second minute from his first touch of the ball when he beat his opposing centre BJ Aufaga-Toomaga on the outside and was way too fast for the closing defence to cross from 30 metres.
His second try was déjà vu, although this time he beat Aufaga-Toomaga with a left-handed fend then shook off two more tacklers near the line.
Spry's second try, and skipper Lamar Liolevave's only a minute into the second half, gave Tweed a clear lead at 24-12.
The right centre's third try came in the dying moments when he stepped inside, then out, and pushed off defenders again in a show of class from 25 metres.
Seagulls coach Ben Woolf said this was Treymain's best performance of the season.
"Our plan to give him early ball and let him create his own opportunities worked well," he said.
"He was very classy on the right edge. He's a very good attacking player and we utilised him better than we had been.
"Our attack was very sharp generally which was pleasing. We wanted to go wide with early ball to Treymain and play more direct on the left and it worked well on the back of some strong running in the middle."
It was an important victory for third-placed Tweed who can expect to be without their Titans players for a few more weeks.
With Burleigh Bears upsetting leaders Wynnum Manly Seagulls and the Redcliffe Dolphins getting the points against Ipswich, Tweed's win keeps them a point ahead of both in-form teams going into next round's clash with seventh-placed Souths Logan Magpies at Davis Park. The Falcons are due to play the Jets in Ipswich.