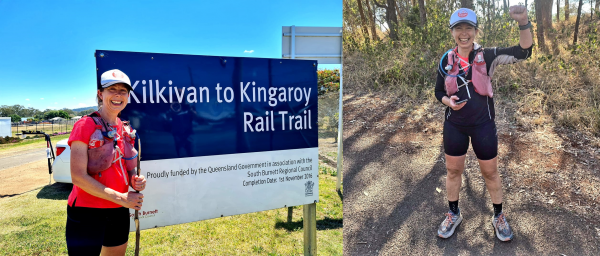 By Julian Lehnert
A Maryborough mother has been the first person to attempt and complete the KKRT 110 ultramarathon, finishing the gruelling South Burnett rail trail challenge in just under 32 hours last weekend.
Dental assistant and receptionist Melissa Bensted braved the Kilkivan to Kingaroy Rail Trail on 24 and 25 September, completing the 110-mile (178km) journey around noon on the second day.
The KKRT 110 was a race event originally set to go ahead in early August, but which was cancelled due to Covid uncertainties before its start date; this makes Ms Bensted's attempt the first time someone has completed the entire course.
As part of the journey, the Maryborough resident started in Kingaroy, traveling along the 55-mile (89km) trail to Kilkivan before returning the same way to end up back in Kingaroy, with the entire trip taking her 31 hours and 48 minutes.
Ms Bensted's KKRT 110 completion comes as her third recorded trip on the South Burnett rail trail, having already completed a 13-hour one-way journey on the trail on 13 February which has since been recorded as the fastest time ever run on the track.
After completing the mammoth effort, she explained that her KKRT 110 attempt came about as a result of her previous run and her desire to crack that elusive 100-mile barrier.
"I was supposed to travel to New Zealand to do my first 100-mile race in February," she said.
"I didn't want my training to go to waste, so that was when I ran the trail one way and it has been on my mind ever since; when the planned event in August was cancelled I decided to go it alone," she added.
However, she soon saw herself joined by friends, family and other runners, who were willing to support her along the way.
"There was another runner, Ben Weule, who was keen to run one way so we decided to do it at the same time," she said.
Ms Bensted completed her first lap on the trail around 5pm on September 24, making it back to Goomeri at around 10pm and taking a rest stop in Wondai in the early hours of the morning on September 25.
Even a night-time encounter with a brown snake before Goomeri did not deter the seasoned ultramarathon runner from completing her journey, instead spurring her on to complete the full 110 miles back in Kingaroy around noon.
"The trail is very exposed and it got hot during the day," she explained.
"I was moving pretty slowly through the night and got very cold."
"By the time I got to Wondai on the return leg I was very tired and took the opportunity to have a quick nap, breakfast and coffee before continuing – this was exactly what I needed and I was able to run again after about 12 hours of walking."
In the end, it took me several hours longer than I had hoped, but I wouldn't trade a quicker time for the lessons I learnt," she added.
Dead Cow Gully ultramarathon organiser Timothy Walsh congratulated the Maryborough runner on her accomplishment.
"It was a gutsy effort indeed," he said.
"We didn't think she was going to make it because her pace really slowed after coming back through Cinnabar – she was running alone for about 60km which is very difficult, particularly at night," he added.
During her run, she received massive support from friends, family and onlookers on social media; after completing the journey, the Maryborough mum-of-three reached out to thank her followers.
"I had planned to run the KKRT 110 as a solo effort, but when offers of help started coming in I would have been foolish not to accept," Ms Bensted said.
"The real heroes of this story are my pacers and crew, many of whom were strangers before last weekend."
"My pacers were my husband, Nathan, and Michelle Hansen. Michelle, who I met for the first time when she joined me in Murgon, ran through to Kingaroy with me. She kept me moving and made me believe I would finish," she added.
"Timothy Walsh took charge and crewed us from Friday morning through to when we finished on Saturday. He was there at every opportunity and made sure we had everything we needed."
"I should also mention Conor Weule, Ben's wife who helped with the crewing role on the first leg. Also Liz and Sean Nicholson who helped with transport and welcomed me, a stranger, into their home when I needed a place to stay after the run."
"The support I received both on the ground and on social media was unexpected and I hope my experience can inspire someone else to attempt something many would say is impossible," she said.
The KKRT 110 ultramarathon will now go ahead next year with a planned start of August or September 2022, according to Dead Cow Gully's Mr Walsh, allowing other runners to follow in Ms Bensted's tracks.