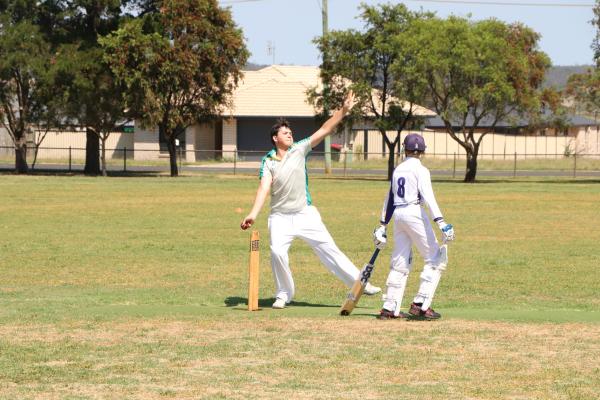 By Julian Lehnert
The start of the 2021/22 cricket season in the South Burnett last weekend saw seasoned players return to the pitch, but also had new arrivals test their mettle in a series of games around the region.
Teams from Kingaroy, Nanango, Wooroolin, Murgon and Cherbourg went head-to-head in the South Burnett Cricket Association's junior and senior brackets on Saturday 9 October. The Nanango Scorpions delivered a masterclass in junior cricket in their victory over the Kingaroy Vikings, dominating the home team with 228 runs to 98.
The Scorpions' bowling and fielding prowess held Kingaroy's batsmen to a maximum of just 27 runs, while Nanango's captain Oscar Dioth earned 51 runs, with nearly every other batter recording at least one run for the team as well.
For Thomas Town, a new player for Nanango, Saturday's match against Kingaroy proved to be an explosive introduction, with the young gun earning 15 runs, bowling one wicket and recording one catch on the field.
The Nanango Scorpions will face Kingaroy again this week, with their second match of the season scheduled for 16 October at 8am at the Murgon Showgrounds. Read the full cricket results from round one on page 70.
(SUBHEAD)
Meet some of the junior players:
Oscar Dioth, 13:
Is this season's captain of the Nanango Scorpions.
What do you like about cricket: Everything!
Favourite positions: Batting, fielding
Went for 51 runs, no out, scored 1 wicket
Thomas Town, 13:
Is a new player for the Scorpions – once playing for Kingaroy, then moved to Nanango.
What do you like about cricket: Bowling.
Favourite positions: Bowling
Looking forward to the season: Yes!
Scored 1 wicket, got 1 catch, 15 runs
Darcy English, 13:
Has been with the club for around 2 years.
What do you like about cricket: Having fun, coming out every week.
Looking forward to the season: Yes!
Got 1 catch, 2 runs