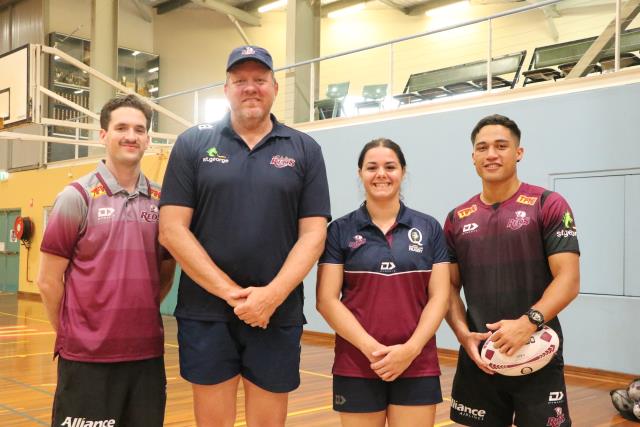 by Julian Lehnert
Queensland's state rugby union team travelled to the South Burnett last week in an effort to drum up engagement and excitement for the sport among the youth of the region, with players and staff hosting workshops and community meetings in several towns.
The Queensland Reds, the state's rugby union squad, visited the region as part of their yearly community outreach effort, making appearances in Wondai, Cherbourg, Kingaroy and Nanango.
As part of their travels, current and former players of the team held a series of workshops, drills and info sessions at Kingaroy's State High School, showing students the ins and outs of the sport first-hand.
"The whole squad travels throughout Queensland every year," Reds communications coordinator Tom Primmer said.
Mr Primmer accompanied current Reds players Alecia Pienaar and Kalani Thomas as well as former player Garrick Morgan to the Kingaroy SHS workshop.
"We really want to build those connections and give back to the State," Mr Primmer said.
Toowoomba local Garrick Morgan, who played for the Reds from 1996 to 1998 and the Australian national squad from 1992 to 1997, said the initiative was mainly about connecting with the people out in the country.
"We train out of Brisbane, but getting people from the country involved is what it's all about," Mr Morgan said.
"In a way, it's about our people recognising who they are and giving back a little bit. We're real people – real Queenslanders – and that's who we represent."
The Reds' appearance in the South Burnett came as part of the third annual state-wide trip taken by the team, serving as a key opportunity to drum up support among potential young players.
"It's (…) good to have kids involved with rugby [union] and their local clubs – if we can convince a few kids to get into the sport that'd be great," Mr Primmer said.
As part of their visit to the region, Queensland Reds players also met with members of the newly-revived South Burnett Thrashers club in Wondai.
The Thrashers club folded in 2013 and has now returned to the local rugby union scene, with long-time player Mick Bishop taking on the role of coach for their first training session on 25 November.
Queensland Reds players met with the Thrashers and exchanged jerseys and well-wishes.