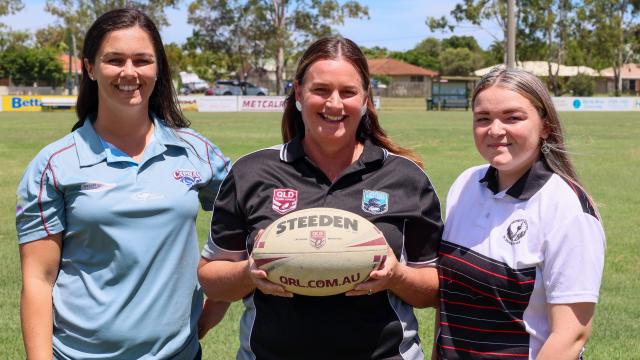 The Burnett's leading female rugby league players will have an opportunity of a lifetime in 2022 as a new competition is launched.
The designated pathway in the Wide Bay will welcome teams from the Burnett, Fraser Coast, Bundaberg regions and beyond to play in the competition which kicks off in March 2022.
The competition will support three grades of female football including under-14s, under-17s and an open women's division.
Queensland Rugby League Central Division Female Pathways board member Terri Weatherley is excited to see a dedicated pathway emerge for female players in the region.
"We will have teams from Bundaberg City and Country, South, Central and North Burnett, Fraser Coast and potentially Gladstone competing," Weatherley said.
She believes sport in the region will benefit from this initiative.
"The Wide Bay now has a pathway for our female players from under-6 through to senior women," Weatherley said.
Wide Bay Rugby League will work with the clubs and leagues to create a partnership with the existing competitions to value-add to rugby league within the region.
"It will enable families and supporters to come along and not only watch our women and young girls play, but to cheer on the men as well in their local competitions," she said.
Next year, the new competition will select an open women's team to compete in the Central Division's 47th Battalion competition in Gladstone.
The announcement of a senior competition returning to the region has 2021 Central Queensland Capras player Sophie O'Toole excited.
"It is really exciting that the competition is starting back up, and we will have a dedicated pathway for female players," O'Toole said.
She grew up in the Fraser Coast region and did not have many opportunities to play junior rugby league in her area.
O'Toole urges all girls and women who want to participate in the competition to get on board.
"It is a great game, and you will have a good time playing it," she said.
Junior player Kodie Doherty agrees.
"It is very exciting that the competition is going ahead, I enjoy playing the game and the opportunity it creates to make new friends," Doherty said.
For players, clubs or leagues wanting further information or wishing to join or enter teams, contact QRL Central – Wide Bay League and Club Coordinator Kym McIntosh at k.mcintosh@qrl.com.au