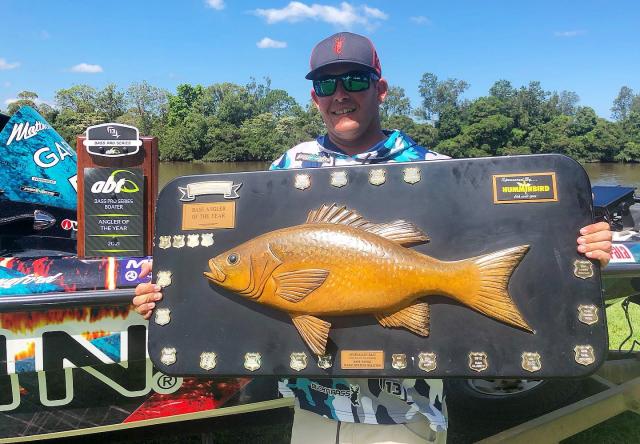 by Julian Lehnert
Kingaroy professional angler Matthew Langford has done it again, snagging the most prestigious title in bass fishing for the second year in a row.
Mr Langford took home the coveted Australian Bass Tournaments Angler of the Year award for the 2021 season in December, thanks to a show-stopping performance at Cania Dam in the North Burnett.
The pro fisherman won the trophy with a total score of 282 points, beating out runner-up Mike Nelson by 7 points.
He explained that competitions are run at locations all across Australia's east coast, ranging from Melbourne to the North Burnett, with anglers competing to be the most consistent across the board.
"There's so many elements to [a successful competition day]: obviously there's the weather, you have to have your sounders or other technology to help you find the fish, you've got your lure selection, the techniques you're going to use – there's a lot of thought that goes into it all," Mr Langford said.
Anglers have a limited timeframe on each of the two days of the competition to gather up their five biggest fish, with the best four results taken and added, then tallied for a final score.
"Winning AOY is the most prestigious award in bass fishing, so it's pretty cool to win it this year and last year," he said.
The Kingaroy angler, who owns and operates boating charter service Australian Freshwater Fishing Charters when not on the hunt for more titles, also had a shot at ABT's Grand Final trophy and the grand prize of a new boat on 18 December, falling just short of the win to a last-ditch effort by Dane Pryce.
"After the first day, I was coming third," he explained.
"On that last day, I knew I had to get out there and just catch fish. I caught five, but needed some upgrades.
"I changed my technique in the area I was fishing and caught three really good fish to bump me up from third to first place.
"However, because we don't actually bring the fish back in to weigh them on stage – we do it all via an app – and because the weigh-in times were staggered, Dane Pryce had about fifteen minutes of time to catch something after me. In those fifteen minutes – and full credit to him – he managed to catch a real good fish on his last cast. When he entered it, it put him in first by 90 grams.
"It was a bit of a shame, but my whole intention was to go down there and win that AOY trophy.
"It was awesome to have a shot at the final though. Sometimes, fishing is like that – you've just about won, then someone enters a key fish and beats you," he added.
Mr Langford has been in the professional circuit for just over half a decade, having spent many years prior climbing the ranks.
He has won Angler of the Year for Australian Bass Tournaments in 2020 and 2021, also winning the award in the Bass Nation organisation in 2018.
With the season now over, the fishing pro is set to prepare for the 2022 season starting in February this year.
Addressing his fans on his Facebook page, Mr Langford thanked his supporters for being along for the ride.
"A thousand words can't explain how proud I am to be awarded the title," he said.
"To win AOY twice in ABT and once in Bass Nation is beyond what I thought I could ever achieve.
"It's so true that if the people around you believe in you and you believe in yourself and your ability, you can do anything."