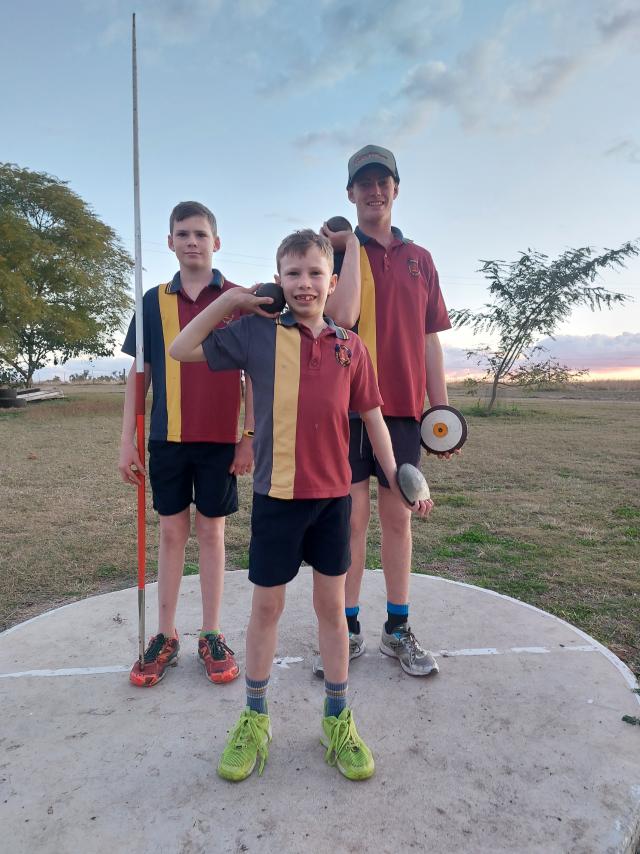 By Maddison Richards
On Friday, 17 June 2022, Goomeri State School held their annual athletics carnival. It was a great day with smiles and cheering all round.
The Richards family was especially successful, with a large goal ahead of them, aiming to break eight records between them.
Connor Richards, under 15's boys, has an especially hard task ahead of him with a 43-year-old discus record looking to be broken.
Originally 40.31m and set by Michael Polzin in 1979, Connor now holds the record with a throw of 41.30m, with a 1kg discus using the spin technique.
Javelin and shot put were also a success, breaking both records.
Shot put was only a new record, being set in 2020 with a distance of 10.69m with a four-kilogram shot put. The record now stands at 11.27m as well as setting his new personal best.
Javelin, likewise, was only set recently in 2020 with a throw of 28.67m with a 700g javelin. Connor now holds the record and a new personal best with a throw of 35.50m.
"I was nervous about breaking the discus record because we were throwing on grass. We train on concrete and with all the rain that we had had the school oval was pretty wet making it slow to throw on, I was so excited when it got measured to find out that I broke it. All the training had paid off,'' Connor said.
Eli Richards, the second oldest brother and in the under 12's boys age group, had big shoes to fill as his records were set by Connor in past years.
Javelin was the main focus this year, as he was moving up a weight.
"So, his throw will set his new personal best," said his mother, Fiona Richards.
Eli managed to break the javelin record beating the original distance of 17.87m with a throw of 26.70m with a 600g javelin.
Discus and shot put were also in his sights.
Discus was originally 23.97m, Eli now holds the record with a throw of 28.47m. He also broke the shot-put record of 7.29m with a 3kg shot put, going up a weight, with a new record of 8.19m and a new personal best.
With this record, Eli has now claimed all three throwing disciplines records from his older brother.
"I wasn't sure about shot put as it isn't my strength, as well as because I was going up a weight as well," Eli said.
"I knew I could get discus and javelin because I had won medals at state level so I was pretty confident in breaking these records. So, getting all three was the icing on the cake."
Youngest of the three brothers and under 9 boys age group, Landon Richards has the biggest shoes to fill, as he now aims to beat all his brother's records.
This year, he had to break Eli's discus record, which was 18.01m, and he now holds the record with a throw of 23.55m.
"I would have loved for the throw to have been bigger, but throwing on grass slows you down," said Landon, when asked about his discus.
With a shot-put record of 6.00m, Landon knew he had it in the bag, breaking the record with a throw of 6.99m with a 2kg shot-put.
"I would have loved to throw well into the seven meters, but the wet ground and grass made me slow."
Connor and Eli are looking forward to South Burnett Athletics Trials at the end of the month, hoping to make the South Burnett Team for Wide Bay trials.