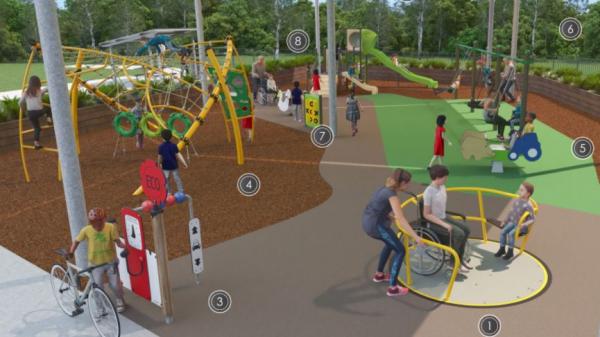 Kate McCormack
Nanango families rejoiced last week as news the Butter Factory Park is coming to fruition with plans recently released by the South Burnett Regional Council.
Nanango resident and park advocate Jane Erkens said she was excited to finally see the plans for the all abilities facility specially designed to provide a play area for South Burnett children with disabilities to enjoy.
"It was brought to our attention a few years ago that the region was lacking a park with any disability-friendly play equipment," she said.
"So we formed a little committee and started fundraising back in December 2018 and Heritage Bank soon came on board, pledging to donate $3 for every $1 we managed to raise."
Through a number of clever and creative fundraising efforts including raffling off a ride on mower, a community share dinner, a Zombie invasion event as well as a number of generous local artists, musicians and businesses getting behind the effort, the Nanango Community managed to raise an impressive $84,000.
SBRC community general manager, Peter O'May said the total project is estimated to cost $188,000 with Council funding the balance through the Drought Communities Funding and Works for Queensland funding.
"The concept plans are currently being circulated… with the project due for completion mid-December and opening planned for Mid-January 2021 with the final date yet to be confirmed," he said.
Photos from the concept plan portray a range of all ability friendly activities including a wheelchair friendly roundabout, an inclusive-style swing set and a musical xylophone panel.
"It's a huge credit to the Nanango community that we managed to raise such an impressive amount in just over a year of fundraising," Ms Erkens said.
"Thanks to many generous local musicians, artists, crafters and businesses, the local committee managed to raise $20,000, not to mention create an invaluable sense of community support throughout the duration of the fundraising project.
"Now we're just looking forward to seeing the park plans become a reality.
"It's definitely going to be something that serves young local families for many, many years to come."