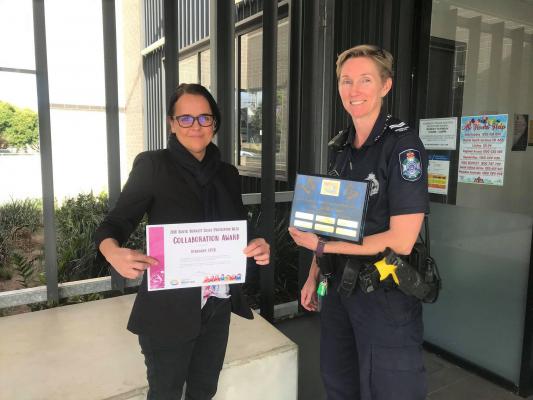 Laura Blackmore
For Samantha Giles, being a police officer is about much more than wearing a badge, it's about giving a voice to the most vulnerable people in our community.
As part of Queensland Child Protection Week, a number of South Burnett patrons have received awards to commemorate the crucial work they do across the region.
Senior Constable at Kingaroy Police Station Samantha Giles was awarded the Joy Kite Award for her dedication to working with children, young people and families.
For the past nine years Snr Const Giles has been part of the Burnett community and said she was proud to help families through some of the darkest times of their lives.
"We live in the community, so you don't just do your work and go home at the end of the day," Snr Const said.
"You want the best outcome for the community that you live in, so do what is needed and beyond.
"We work very well with external partners like Child Safety, CTC, probation and parole officers and all the support services.
"It can be taxing on everyone involved, including the victim, the families as well as the police officers but we do it well to get the best outcome."
Acting Detective Sergeant at Kingaroy Police Station Lisa O'Leary was also nominated for the Joy Kite Award and was part of the team who won the Collaboration Award as part of Kingaroy Child Protection Investigation Unit.
She said despite all of the challenges of the job, the small wins outweighed the rough times.
"It's definitely confronting but it's also very rewarding," she said.
"It's about giving the family and the victim some form of resolution.
"We are never going to make a child forget what happened but our job is linking them to all the external agencies to help them.
"It's also about putting that perpetrator in front of a court and have all the evidence to get a guilty outcome," she said.
Snr Const Giles said she believed there had always been a need for child protection in the Burnett but in today's society victims are more inclined to come forward than they were a few decades ago.
"I don't think recent statistics are all that different to the past but I think people feel they can report it now.
"There's more awareness now than say 10 years ago," she said.
"It's everywhere, in schools, in the news and on social media.
"People are more comfortable to report it and come and tell us, which ensure we can carry out our duty."
Child Safety contact numbers:
If you believe a child is in immediate danger or a life-threatening situation call Triple Zero (000).
If you have a reason to suspect a child in Queensland is experiencing harm, or is at risk of experiencing harm or being neglected, contact Child Safety Services and talk to someone about your concerns:
During normal business hours contact your local Regional Intake Service.
For North Burnett: 1300 703 921
For South Burnett: 1300 683 390
After hours and on weekends, contact the Child Safety After Hours Service Centre on 1800 177 135.