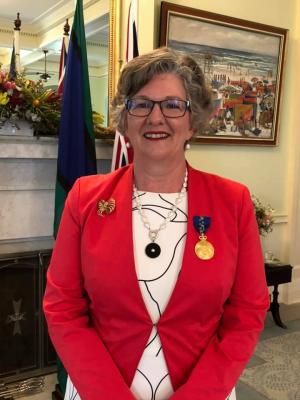 Laura Blackmore
For more than three decades Georgie Somerset has been a pioneer for working remotely.
Her tenaciousness to pursue a career from her family's cattle property at Durong has led her down a path where she is now able to make a change from the comforts of her home.
After being originally announced as a recipient in January 2020, the South Burnett rural advocate has finally been presented with her Australian Medal in the General Division of the Order by the Governor of Queensland, Paul de Jersey, at Parliament House.
Georgie said her humble beginnings growing up on the farm helped build the foundations for her collaborative style of approach in the work force.
"I was raised in a family where everyone was involved and we all had a go at things," Georgie said.
"We were all involved in running the family business and there was a mindset that you could do anything you wanted to pursue.
"I certainly don't set out to be recognised.
"This award is a reflection of the people I work with and it's about a whole team of people behind me."
Georgie currently holds the positions as General President of AgForce, President of Queensland Rural, Regional and Remote Women's Network and as a chair, director or committee member for organisations including the Royal Flying Doctor Service and the ABC.
With years of experience working in various regional industries, Georgie said her goal was to help the next generation succeed.
"I have been enormously privileged to work with organisations that improve life not just in rural and regional areas but also for women and women nationally.
"That's been the great thing for me, to be able to combine living in strong community here but also have influence at a national level.
"We need to build organisations in communities that are strong and not reliant on one person.
"My aim is that organisations will be stronger by the time I leave.
"Our greatest asset is our people because nothing happens without people."
Despite Covid changing the procedure of the medal presentation, she said it was still a momentous day receiving her AM.
"My husband and my two sons came with me to the ceremony, but unfortunately my daughter couldn't make it," she said.
"Government House did an amazing job of finding a way it could still operate.
"We weren't able to meet the other recipients like in previous years but it was special in its own way because the whole family got to meet the Governor of Queensland and spend some time with him."
Looking to the future, Georgie said she had been re-elected unopposed as the President of AgForce for another two years and would continue to be a champion for change in her other roles.
And of course, she said they were very much looking forward for the wet season to arrive.