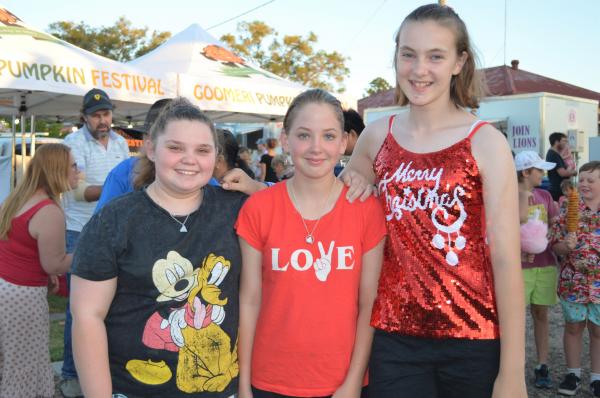 Christmas decorations are starting to pop-up around the region as tinsel, posters and Christmas trees appear around the streets.
This December has a line-up of some festive events across the Central, North and South Burnett to keep the spirits up after a long, difficult year.
Things will look a bit different this year as groups work around Covid-restrictions and encourage people to celebrate but also keep their social distancing.
2-12 Dec: Burnett Christmas Pop-Up Shop at Mundubbera
The Burnett Christmas is a 10 day pop-up shop showcasing the unique and quality homemade gifts from the North Burnett region. The Mundubbera shop on Lyons St will be open from 9am to 5pm Monday to Friday, 9am to 2pm on weekends and open late on Friday 5, December.
4 Dec – Annual Gayndah Anglican Church Fete
Kicking off from 5.30pm. Santa will also be making an appearance for the little ones!
4 & 5 Dec – RSPCA's Santa Paws
Santa Paws is the paw-fect way to get a unique family photo in time for Christmas and in doing so, you are also supporting the RSPCA and the animals in our care this festive season. Please note, Santa won't be in attendance due to COVID-19. So, we ask that attendees dress in their most festive gear and bring in any Christmas props they would like to include in their photo. Head to the RSPCA Santa Paws Kingaroy event at www.eventbrite.com.au to book in your photo session time.
For just $15.00 (+ GST & booking fee) you will receive two digital images.
Date and time: Friday 4 December from 11am onwards and Saturday 5 December from 3pm onwards.
Location: RSPCA Kingaroy, 43 Warren Truss Dr Taabinga
5 Dec -Biggenden Women's Shed Christmas Markets.
9am to 1pm at the Biggenden Memorial Hall Cnr Victoria and Fredrick Streets, Biggenden. Stallholders are welcomed. Contact biggendenws@gmail.com
5 Dec – Eidsvold Santa Fair at Apex Park will get started at 5pm.
The event hosted by the Lions Club of Eidsvold is sure to be fun for all.
6 Dec: Kumbia Crafty Christmas Carnival
This event will be held at the Kumbia Memorial Hall from 5pm to 8pm on Sunday, 6 December.
6 Dec – Kingaroy Town Christmas Carols
The event will kick off at 6pm in the Kingaroy Town Hall Forecourt. Nathan, Brendon and Jared Walmsley will be leading the carols this year.
6 Dec – Moffatdale Boutique Markets
Moffatdale Ridge Winery will host a range of stalls and live music from 3pm to 7pm. Aussie Pork Suppliers, Your Harvest and Brookdale Creations will be some of the 60 stalls set for the markets.
10 Dec: Kingaroy Christmas Twilight Markets
12 Dec: Speedway Christmas Cup. Racing will start from 5pm at the Kingaroy Speedway. Race classes including Uniform Zone Queensland Street Stock Title, Super Sedan Queensland Series, Junior Sedan Allstar Series Round 3 and Lightning Sprints are lined up for an action-packed night.
15 Dec: Carols in the park in Mundubbera, starting at 6pm in the Bicentennial Park – food and drink stalls, contest winners, raffle prizes
18 Dec: Nanango Family Christmas Carnival
Be sure to head along to the stalls, free rides and lollies. Meet Santa Claus and sing-a-long to the Carols. The event will kick off at 4pm at Pioneer Park.
19 Dec: Carols by candlelight at Woowoonga Public Hall in Woowoonga (north of Biggenden) at 5.30pm
There are many initiatives to help celebrate the festive season and opportunities to give this Christmas. Here's some of the things happening around the Burnett:
Christmas Food Drive Kingaroy
Bill Hull Car Centre, Peries Supa IGA, South Burnett CTC and South Burnett Police are joining forces to ensure it will be a Merry Christmas for everyone in their community. They are hosting a Christmas Food Drive and need donations from the community. People can donate at the Bill Hull Car Centre or any South Burnett Police Station until Saturday, 19 December.
Hampers of Hope
Monto Neighbourhood Centre are putting together Christmas Hampers of Hope. Community members can donate non-perishable goods or money to the MNC and they will give to families in need
Letters to Santa
Did you know you can send a letter to Santa? Burnett Today team has been working hard alongside Santa's elves to make this festive season that little bit sweeter. Kingaroy Shoppingworld have a dedicated mail box outside Big W to send through your letters. Find details of all the extra terms, conditions and details on page 15 of Today's paper but hurry… we need to send all of Santa's letters to the North Pole by Thursday, 10th December!
Santa Photos
Commencing at Kingaroy Shoppingworld Monday 30th November 2020. Families are invited to come and have a magical photo with Santa this Christmas. Santa Photos will be a little different this year due to Covid regulations but we are so pleased they are still happening! Online booking system only, no walk ins. Date: 30th Nov to 24th Dec 2020, 10am to 2pm daily, excluding Sundays.
Random Acts of Kindness
A little thanks goes a long way… Kingaroy Shoppingworld is partnering with Woolworths Kingaroy and Big W Kingaroy giving back to our customers after a trying year. We will be sharing the joy and thanks with our loyal customers this Christmas with random acts of kindness. The thank you gifts will vary – gift cards, shopping bags of groceries, craft packs for kids and more! This will take place throughout the month of December 2020.
Christmas Tree Giveaway
Kingaroy Shoppingworld will be partnering with CTC South Burnett to support people in the community this Christmas. We will be working together and donating the live Christmas Trees on display (17 live Christmas Trees will be positioned in the centre this coming weekend) in the centre the day before Christmas to families who may not have a Christmas Tree to enjoy this Christmas, hoping to bring some happiness to these families. Date: Wednesday 23rd December 2020.
Extended Trading Hours
Kingaroy Shoppingworld is open every Sunday until Christmas, starting this Sunday 29th November 2020. There is more time to shop this Christmas! Woolworths and Big W will open every Sunday, Specialty stores will vary therefore it's recommended to check with individual stores. Woolworths and Big W will also extend trading hours from Saturday 19th December until Christmas eve giving our customers plenty of time to get their shopping done.