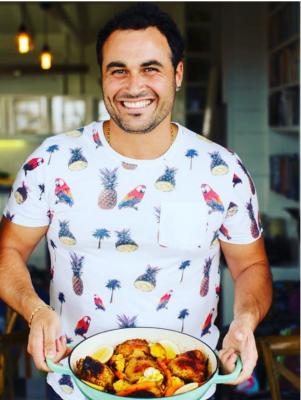 Kingaroy BaconFest will take on a Spanish flavour for 2021 now that their headline chef has been secured.
Australia's favourite Spanish Chef, Miguel Maestre will work with the organisers to ensure next year's event is 'pigger' than ever after the annual food festival was cancelled in 2020 due to Covid-19 restrictions.
"They say bacon is the duct tape of the food world, it fixes everything!" he said.
"I can't wait to visit the beautiful South Burnett in Queensland next August to explore the region's produce and celebrate all things pig."
Mr Maestre, who is the co-host of lifestyle television series 'The Living Room', said he was happy as a pig in mud to be visiting the South Burnett in 2021.
"Bacon is one of my favourite ingredients, in life with bacon everything is a little bit better and I'm so excited to put a massive show on the stage," he said.
"It's going to be a great, big weekend at BaconFest," he said.
In February this year Mr Maestre was crowned winner of the sixth season of 'I'm a Celebrity… Get Me Out of Here' and also featured in the 2019 season of 'Dancing with the Stars'.
Chief Baconeer Kristy Board was excited to be welcoming a chef of Mr Maestre's calibre to Kingaroy.
"I'm tickled pink that he'll be at Kingaroy BaconFest in 2021," she said.
"Mr Miguel is a popular performer at many of Australia's top foodie events including Regional Flavours in Brisbane and Good Food and Wine Shows in Melbourne, Sydney, Brisbane and Perth,"
Kingaroy BaconFest is due to be held from 20 to 22 August, 2021.
Crowd favourites such as the Bacon and Local Produce Food Market, Wine and Swine, the Long Table Breakfast and live music from some of the best bands in southeast Queensland will be back next year.
Ms Board said on behalf of the BaconFest organising committee she wanted to wish everyone a safe and peaceful Christmas.
"May your Christmas tables be heaving with Australian ham. Here's to a better and brighter 2021," she said.