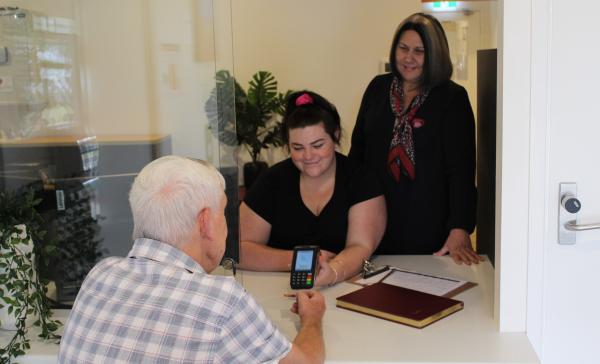 By Amy Buckingham
Community care groups are helping some people worried about banking alternatives in the wake of two branches closing their doors to rural communities.
The National Australia Bank, Murgon, is set to close shop on Thursday, 22 April, and Bank of Queensland, Kingaroy, will stop serving customers on Monday, 2 August.
A BOQ spokesperson said the branches' closure came as the bank reviewed how it assisted customers.
While NAB retail customer executive Craig Armstrong said the decision to shut the Murgon branch was due to an increase in virtual services, and a decrease in face-to-face interactions.
However, one group of people who do not favour online services is Kingaroy Senior Citizens as its 78-year-old president Evan Jackwitz said most members do not own electronic devices, let alone know how to use them.
"Most of us don't have access to mobiles and computers, and we don't really understand how to use them," he said.
Without this digital familiarity, other related concerns Mr Jackwitz voiced included cyber security, and the risk of financial abuse.
"It does put a lot of worry in me when it comes to someone else helping me look after my money," he said.
"I have sons I could fall back on, but not everyone has family members they can trust.
"Scams also scare me because there is a chance someone could gain access to all your information – a lot of us don't even trust bank cards."
Mr Jackwitz said years ago he used to bank with Suncorp, but when it closed its Kingaroy branch he had to change providers.
"It was inconvenient having to change banks and I don't want to have to keep changing if more banks close," he said.
While some people like Evan will struggle with online banking, community care groups are able to provide support.
South Burnett Care chief executive officer Cheryl Dalton said her company could help her largely cash-based clientele with transportation to banks and education about safe technology use.
"We are explaining Centrepay to clients, teaching them how to use online services securely, and taking them to do their banking and shopping," she said.
"However, we are very careful in how we manage banking – the people we would help would be clients we had a relationship with, and we would talk to their family or carer throughout the process."
Although these support services exist, not everyone engages with them, so Ms Dalton said as a community people need to help one another out.
From a business perspective, Ms Dalton said her company has been banking with BOQ, but her team is looking at other options to support local businesses.
"It is really important for us to keep local people in jobs," she said.
"The people in the jobs we support return that business back to us too so money stays in town."
A BOQ spokesperson said a mobile lender will continue to provide home lending support to the community, and customers will have access to the bank's internet, mobile and telephone services.
For those people who would like to continue banking with BOQ, Wondai branch owner Neil Smith said customers could transfer their business or personal accounts to his branch.
For more information, Wondai BOQ's trading hours are 9.30am to 3.30pm Monday to Friday (closed between 12.30 and 1pm for lunch), and their contact number is 07 4169 0243.