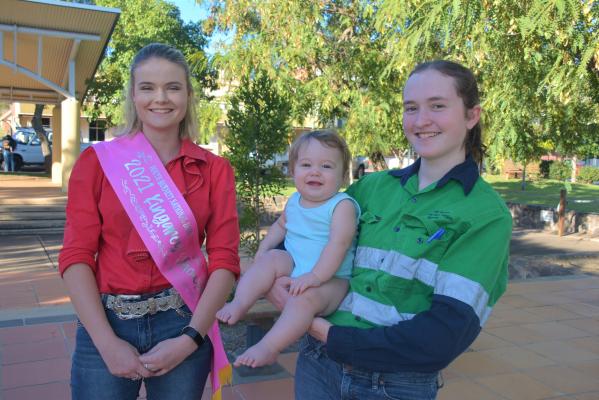 By Neesha Sinnya
The 2021 Kingaroy show ambassadors share the common goal of encouraging young people to get involved with the show society through leading by example.
Kingaroy Showgirl Kyla Milne and Rural Ambassador Rosh-Hannah De Caluwe enjoyed getting amongst the action at this year's show.
"After being behind the scenes for so long I'm excited to see it come to life," Kyla said.
"I've been involved with the show society for five years but this is my first year as the Rural Ambassador," Rosh-Hannah said.
The Rural Ambassador said that her favourite part of the show was handing out the prize money to the kids.
"They were always so excited, so it will be nice to actually participate in it because I spent so much time in the head office," she said.
"I want to encourage young people to get involved with the show society whether it is with culinary, fine arts or horticulture – there is something for everyone."
For Miss Showgirl, the opportunity to get involved with the show society came after less than a month of living in the region.
She was encouraged by the show society president, Craig Lucas, to apply for the position and she has embraced the opportunity.
"There are a lot of amazing, passionate people working for the show but we need young people to step up, the show must go on. It's hard work but it is worth it," she said.
25-year-old Rosh-Hannah currently has her hands full with her 8-month-old son Andrew, and is juggling motherhood with her Rural Ambassador duties.
After spending her whole life in the region, Rosh-Hannah's appreciation for the kind people of the South Burnett has grown.
"I love the small country town feel and that you are recognised when you go into a business and treated like a friend. They can't wait to have a chat with you and help you out the best they can," she said.
She plays an active role in the community and is passionate about supporting teenagers through her work with the Combined Churches Youth Group (CCYG).
"I think that teenagers are incredibly special and important, they are often the forgotten aspect of the community, they often feel left out, unloved and a lot of them come from broken homes, especially in the South Burnett," Rosh-Hannah said.
"Youth group provides a safe place for them to come on a Friday night that's free from drugs, alcohol and unsafe situations.
"We are a Christian organisation and it is also a chance for them to be introduced to Jesus, someone who we think is important and that people should know."
18-year-old Kyla is focused on settling into Kingaroy as she prepares to move out on her own for the first time.
She stays busy volunteering with the show society and spending time with her horse.
"It's a very rewarding job because you learn from other people, a lot of the members are older than me but hearing their experiences working with the show is great," Kyla said.
Kyla and Rosh-Hannah will go onto represent the Kingaroy Show Society at the South Burnett Sub Chamber finals in Proston on 19 June.