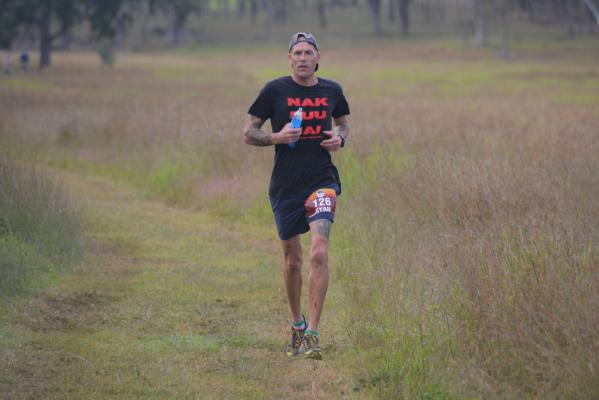 by Jessica McGrath
The clang of the cow bell was heard on the hour – for a gruelling 44 hours – as runners took to the infamous Dead Cow Gully course to see who would be the 'last man standing'.
Runner Ryan Crawford pushed on for a total of 44 loops, amounting to a whopping 295.064 kilometres, claiming the title of the very first Dead Cow Gully champion on Monday, 4 May.
"It [the track] was really good, through the day I'd sussed it out more," Crawford said.
"It was a real authentic backyard ultra and I've done these a few times but I loved the concept of the trails.
"It just got technical at night, that wore a lot of people down with the constant hills and watching where you are going.
"It's pitch black out there, I saw a couple of snakes and kangaroos too."
Crawford was followed closely behind by John Pearson who finally called it a 'second night' after his knee locked up 500 metres into the 44th loop. Pearson completed 43 loops, amounting to 288.358 kilometres.
There were 88 runners who took to the ultra marathon track at 7am on Sunday, 2 July navigating the 'cow tracks' on the rural property north of Nanango.
One by one, loop by loop, the runners called their own personal triumph and personal best with the Dead Cow Gully track – dropping out until it was down to four.
Each runner had to complete the loop inside the hour and be at the starting line as the cow bell rang to be eligible to continue -it was up to them how they kept their pace and how much recovery time they had between loops.
After 27 completed loops and 180.19kms, John Pearson, Ryan Crawford, John Drysdale and Charlotte Long remained.
Long put in a courageous effort, but had nothing left in the tank by the time loop 30 started.
Drysdale finished up after 30 loops leaving the two men to keep going into their second night.
Dead Cow Gully organiser Timothy Walsh was kept on edge as Crawford and Pearson continued their loops.
"It was an inspirational effort from you guys just to see you suffer loop after loop with endurance – it was quite a sight," he said.
Walsh established the ultra marathon on his family's fourth-generation-owned property since 1887.
"It's really cool, it's been such a roller coaster since March last year," he said.
"Everyone who does the course loves it."
The race was initially scheduled for the Easter long weekend but was cancelled when Brisbane went into covid lockdown.
The course is 6.7km to fit in with the backyard ultra model -if a runner completes 24 loops they run 100 miles.
"It's a growing format the backyard ultra, you do the same loop every hour -it's all psychological," Walsh said.
Walsh finished up his full-time teaching job to focus on the Dead Cow Gully ultra marathon -a brave move during uncertain times during the pandemic.
Participant Sandi Faddy from Brisbane said the trail itself was fairly easy, but it was the repetition of the loops which made it difficult.
"It's very picturesque, it's such a good atmosphere," she said.
"You just get in and do it, that's the beauty of it -different runners have different tactics, whether they go slow or fast."