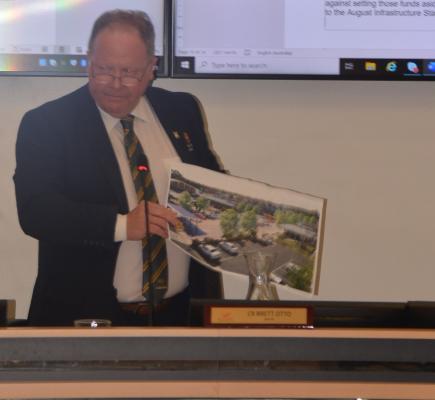 By Amy Buckingham
The majority of South Burnett councillors have slammed the Mayor's suggestion to reinvest the $1.1 million from the Kingaroy Transformation Project's Glendon St shared zone into beautifying the southern side of Kingaroy St.
This came as South Burnett infrastructure general manager Aaron Meehan confirmed the community space for markets and activities was a key priority in securing the $4.5 million Building Better Regions Funding.
At an ordinary council meeting on Wednesday, 26 May, South Burnett Mayor Brett Otto put forward a motion to survey the Kingaroy community to determine where they would prefer these funds to be injected after he said he received several concerns from Kingaroy citizens about the loss of carparks.
Mayor Otto revealed 28 parks would be lost as a result of the Glendon St community shared zone, contributing to a total cut of 91 car parks in the CBD.
"I have received growing community concerns about the shared zone," he said.
"My concern is we will have a tremendous looking KTP, but it will still look tired through Kingaroy St south.
"Many people who use the carparks outside of the chamber are elderly people who access the library, so that would make it more challenging for them."
However, SBRC reported on 3 December 2020 that KTP would add seven more accessible parking bays for senior citizens and thirty more disability car spaces.
After hearing this motion, councillor Kirstie Schumacher said she recognised it was important to revitalise the southern side of Kingaroy St, but she feared if KTP wasn't completed Council would not get anything done.
"The shovels are already in the ground. KTP is happening right here, right now," she said.
"I am worried doing a survey and wasting our resources and money asking questions and reigniting the conversation will bring out all these different versions of the discussion again.
"I'm not prepared to constantly do this to our community."
In support of Mayor Otto, councillor Kathy Duff said she was concerned about the negative feedback Council would receive from the community if the car parks were removed.
"Glendon St could spoil the whole project," she said.
"This project is a waste of time if we don't fix the dilapidated shops, and I don't understand how the other councillors don't see that."
However, councillor Roz Frohloff said while Council should continue to put pressure on the owner of this vacant building to fix their shop, it was not Council's responsibility to beautify this area.
Mayor Otto and Councillor Duff voted in favour of the motion, with councillors Kirstie Schumacher, Roz Frohloff, Gavin Jones, Scott Henschen and Danita Potter voting against.
All councillors voted in favour of a motion to conduct extensive community consultation about the final design of the Glendon St shared zone.
Funding fact check
On 17 March SBRC reported the development of a Glendon Street shared zone complete with trees, fixed shade, fixed seating and landscaping was a key part and ultimately a driver in securing the $4.5 million Building Better Regions Fund.
SBRC would be required to provide a minimum contribution of $4.5 million to match the federal funding for a combination of $9 million towards the project.
Other key eligible parts of the BBRF application included upgrades to Haly St, Kingaroy St, Glendon St and Alford St.
Upgrades to storm water systems, electrical and communication networks, water supply networks, road pavement and intersections, footpath and crosswalk enhancements, and lighting and parking were also required.