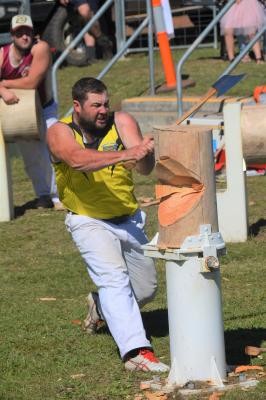 By Jessica Mcgrath
Blackbutt's prodigal woodchopper returned home from a 'big win' for a competition at his own stomping grounds.
Mitch Argent was 'one of the best' woodchoppers who competed at the Blackbutt Axemen and Sawyers Club competition on Saturday, 15 May.
"After that big win last week it was good to come back here with everyone congratulating you for that win," he said.
"It's always pretty special to come back home after a big win and everyone is pretty happy for you."
Argent axed the competition at the 2021 Stihl Timbersports Australian Trophy event in Melbourne on 8 May, winning the men's national title by just 8.57 seconds in a thrilling grand final.
"I got better as the day went on, in the final I probably cut the best race of the whole day for myself," Argent said.
"It's a hard race, you've got to be fit enough to compete. It certainly takes a lot of doing, and it's probably the hardest race you'll compete in our sport."
As he did not get enough training in the lead-up, the win was a surprise.
"It always makes it a bit more special when you don't expect it," Argent said.
He then jumped right in to help his fellow Blackbutt Axemen and Sawyers Club members set up for his hometown event.
"A lot of work goes into it, setting everything up… I got home Sunday, straight into work so there wasn't too much time to get too big a head," he said.
The Blackbutt competition was held in lieu of the 2021 Blackbutt Show in conjunction with the Top of the Town Blackbutt Bazaar Markets at the Blackbutt Showgrounds.
"We thought we'd be able to run the woodchop without too many restrictions, but it's not as big as normal," Argent said.
"Everyone got behind us, there's a pretty good crowd here today, which is always a bonus."
The Blackbutt event included two state competitions including the 375 underhand and the Jack and Jill.
Blackbutt hosted some of the best woodchoppers from Queensland and beyond last weekend, including five of the current Men's Australian Relay team members.
Queenslander Jake Dingle had cut two seconds at the recent World Titles in Sydney and Brodie Dingle, Jamie Head and Josh Adamson are 'just as good as anyone'.
"Then you've also got Kody Steers from Tasmania that's come up and he's probably one of the best in the world at the moment," Argent said.
"You've definitely got the best guys here, that's for sure, there's only one or two missing."
Argent himself walked away with several wins, including the Standing Black Hard Hitting competition.
"I'm pretty happy with that win -it was probably as good as I've cut in a long time in that hard-hit."
The woodchoppers will follow the smaller agricultural shows around in the lead-up to the Brisbane Ekka -nearly competing every weekend until October.
Argent said, especially at country shows, there is a woodchop event for everyone.
"There's normally a couple of championships and a handicap, women's chops and veterans chops and kids chops, not everyone is a champion in our sport, but they either have been or are going to be," he said.
"It's a good sport, everyone is pretty friendly and gets along really well, everyone is pretty happy to help each other out."
375 underhand QLD title:
1st: Kody Steers
2nd Jake Dingle
3rd Brayn Wagner
300 standing block championship
1st Mitch Argent
2nd Josh Adamson
3rd Jake Dingle
300 standing block hard hit championship
1st Mitch Argent
2nd Jim Head
3rd Kody Steers
Jack and Jill Queensland Title:
1st Mitch Argent and Anne Patterson
2nd Archie and Jody Beutel
3rd Kody Steers and Renee Retschlag