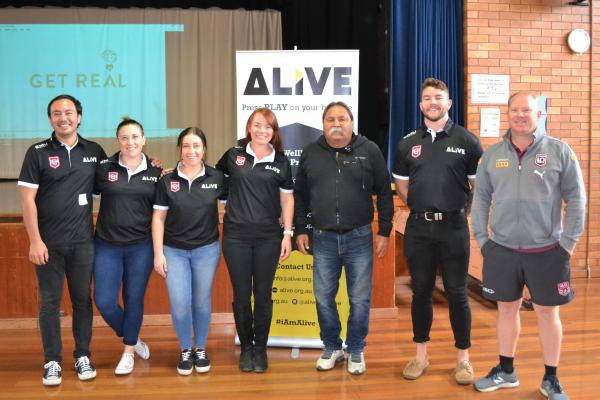 By Neesha Sinnya
Year Nine students learnt the value of mindfulness at the first session of ALIVE training, focusing on improving mental health outcomes for the most vulnerable age group when it comes to death by suicide.
Kingaroy State High School students will undergo a year-long program that ALIVE Project CEO Tamsyn Rosenberg hopes will help the teenagers build the protective factors.
The ALIVE project's mission is to provide suicide-prevention programs that build resilience, connection, and wellbeing – helping them not simply to survive but to thrive.
Following the introductory session on 31 August, Year Nine students Amy, Indy, Evie, and Amber felt positive about the supportive and open environment created by Tamsyn and her team.
After feeling like their problems weren't taken seriously because of their age – the students were relieved to learn that support is available.
"People say that we shouldn't be feeling this way and that we have such a great life.
"It makes you feel like your problems aren't good enough to be heard," Amber said.
This harmful misconception is one that Tamsyn is passionate about advocating for.
"If something is happening for someone it is real in their world, it's not a safe thing to be communicating and it stops them from opening up," she said.
Suicide is the leading cause of death for Australians aged between 15 to 44, and by tackling the issue now Tamsyn hopes she can equip teenagers with the resilience they need.
"The teenage journey is big – it's confusing and there are problems, your brain is forming and hormones going nuts.
For young Indigenous people, the risk of death by suicide is even higher.
To cater to South Burnett's Indigenous community, the ALIVE Project is working closely with Traditional Owners and Elders to create programs suitable for Indigenous youth.
Cherbourg Elder, Uncle Bevan Costello, attended the Kingaroy session to oversee the program and workshop how the important programs could work in his community.
"The issue with the program is that there is too much time sitting and listening – they [Indigenous kids] need to be out and active.
"It's also critical to have our own mob presenting it but the content was pretty good," he said.
Tamsyn is on board with Uncle Bevan's suggestions and will consult with the Cherbourg community to find the best way to deliver the programs to Indigenous youth.
"It's a longer, gentler, and slower burn. We work to upskill Indigenous leaders, Elders, and youth workers so they can deliver their own programs.
"It's about helping from within and then we can try and get some funding so there are employment pathways within their community," Tamsyn said.
The ALIVE Project aims to have its programs rolled out across all schools and rugby league clubs in the South Burnett in two years' time.
Find more about the programs here: alive.org.au/
If this story has raised any issues for you or someone you love please contact Lifeline Australia on 13 11 14 or Beyond Blue on 1300 22 4636.