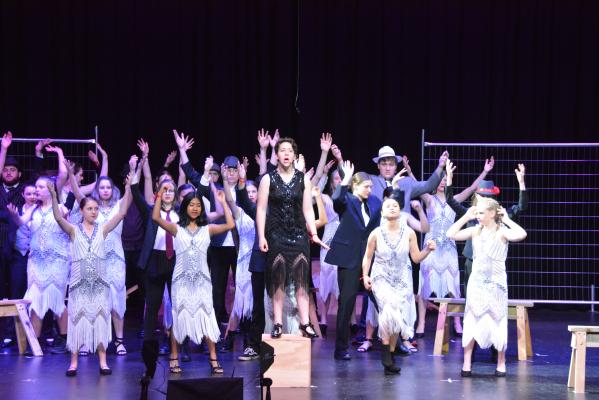 by Jessica McGrath
Year 11 student Harry Charlwood will take up the main stage wearing a superman shirt and armed with a story book this weekend.
He has taken on the role of 'Jesus' in the Kingaroy State High School's latest production 'Godspell'.
"I get to be friends with everyone, and not betray everyone in the end," he said.
In Godspell, a community is formed as they learn about the philosophies of Jesus and how despite having different backgrounds they can find common ground and true respect for Jesus and his teachings.
The production was originally conceived and directed by John-Michael Tebelak, with music and lyrics by Stephen Schwartz.
Coordinating teacher Sue Dowideit-Reiger said they have worked hard to prepare the show in a way that honours Jesus, whilst being accessible for both Christians and non-Christians.
She said language throughout the script was thoughtful and appropriate, making the school's production an ideal outing for all ages.
Harry said he had learnt through working on the production that some people you meet may not be what they initially seem.
The seasoned actor, who has also been in the school's Pirates of Penzance production and the South Burnett Musical Comedy Society's production of Mamma Mia, got assigned the role just six weeks out from opening night.
"I love [in theatre] that you get to entertain people and you never know when you're impacting people's lives," he said.
This is the second production director Zoe Basham has been involved in.
"It's a true joy, something I'm very proud of being part of," she said.
Godspell is all about finding your place in the community and finding your way as a good person.
The teacher aide and past student said this was very different to her last show -Pirates of Penzance.
"I love how eclectic it is, how it brings together the different genres," Ms Basham said.
Simple props like the story book and a simple set has challenged the students in their acting.
"We've tried to be as visual as possible, I love how playful it is," she said.
Ms Dowideit-Reiger is pretty excited to see it all come together.
"It's a great way for students across the school to bond together and gain an understanding of themselves and the arts," she said.
Students started auditions early Term 2 and have been working hard with rehearsals every second weekend.
A total of 33 students from Years 7 to 12 have put the show together both onstage and backstage.
"We deliberately took a minimalistic approach, inspired by brechtion theatre, a minimist approach," Ms Dowideit-Reiger said.
"It gives them insight into the theatre styles and different staging approaches."
Isaac Jones took on the role of John the Baptist and Judas.
The Year 11 student enjoyed the seriousness and cartoonism of the script.
"My character starts off mostly friendly, and then he changes," he said.
"Judas is there to show what jealousy can do in a group."
Year 10 student Wyatt Johnson loved the challenge of playing 'Morgan'.
"She's sassy, cynical, puts on some sexiness and is up-beat," she said.
"It's really incredible to see the stories and bring the people together.
"It'll be interesting to see how people will interpret the musical."
Godspell will be performed this weekend at KPAC, Kingaroy State High School Performing Arts Centre on Markwell St.
Performance dates include:
7pm Friday, 10 September
1pm Saturday, 11 September
7pm Saturday, 11 September
Book through app Qkr! (Kingaroy State High School/ School Events) or call the school on (07) 4160 0666 to help with bookings.