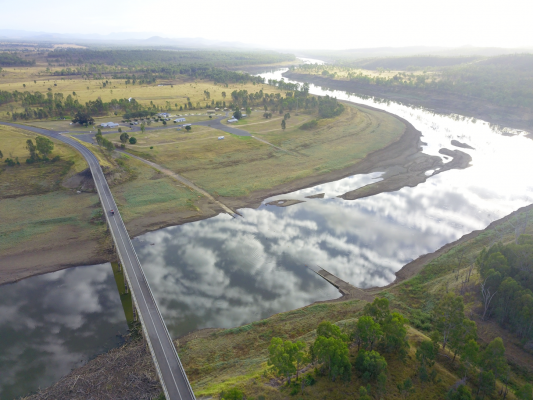 By Julian Lehnert
Water services company Sunwater will commence works to remove an old bridge over the Burnett River at Mingo Crossing this week, citing prevailing dry conditions and a potential risk to community safety.
Sunwater staff are currently determining a course of action for the bridge's removal, which has recently re-emerged after disappearing under the Burnett River waters for over a decade.
The old Mingo Crossing bridge has been submerged in the Burnett River since 2005 following the construction and filling of Paradise Dam, when a new, elevated bridge was constructed to replace it.
With the old bridge's reappearance due to recent droughts, Sunwater now aim to remove what they call a "safety risk to recreational users."
"Over the last 24 months the Burnett has seen some of the lowest rainfall on record for the region," a Sunwater spokesperson said.
"These prevailing dry conditions have resulted in a lower Burnett River level, whereby the old Mingo Crossing Bridge is currently exposed above the waterline.
"This situation provides Sunwater with an opportunity to remove the structure, which currently poses a safety risk to recreational river users. We expect to begin work later this week to establish a project site close to the old bridge," they explained.
The news comes after growing community concerns surrounding Paradise Dam and the water levels of the Burnett River, with Wide Bay-Burnett residents taking to social media to lament the loss of the ecosystem and tourist attraction.
"Just fix the dam to let Mingo Crossing get back to what it once was!" one Facebook user said in response to Sunwater's plans.
Paradise Dam currently stands at 31.8 per cent capacity due to a lack of rainfall and ongoing maintenance works.